With social media, email, and a host of traditional marketing channels available to you, it can get overwhelming pretty quickly. Thankfully, digital signage for dentists can make the most of your waiting room time by marketing to the patients you already have.
Digital Signage For Dentists
Dentists provide a vital service to the community. But let's face it: not everyone takes full advantage of the services offered. Many patients get dragged to the dentist by a family member, loved one, or significant other. Many patients are badly in need of certain services but maybe don't know enough to even inquire about them.
This is where digital signage for dentists can be a big help and a big boost to your practice. Sometimes getting the patient into your waiting room is half the battle. The other half is a combination of information and education. In both these areas, digital signage is a lifesaver.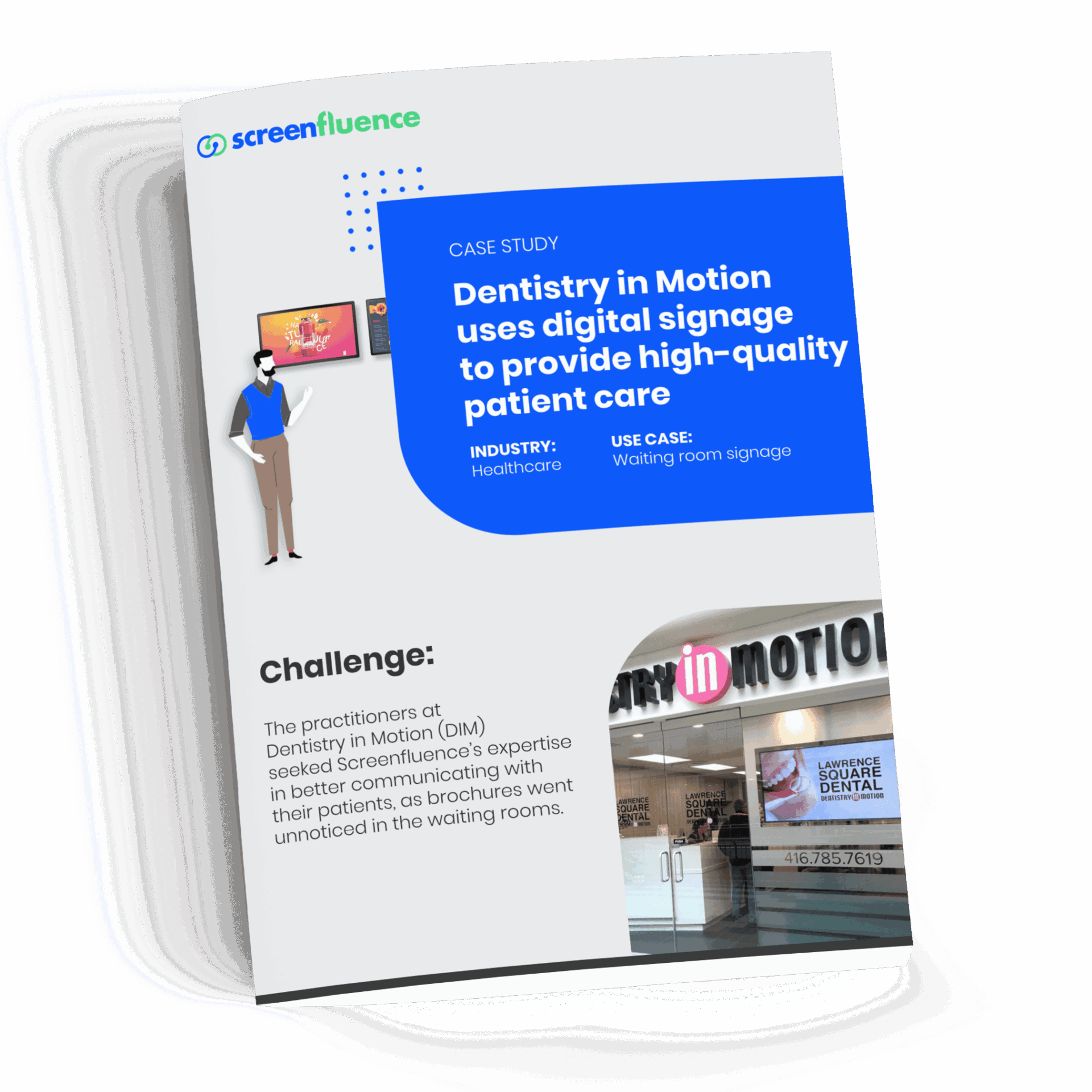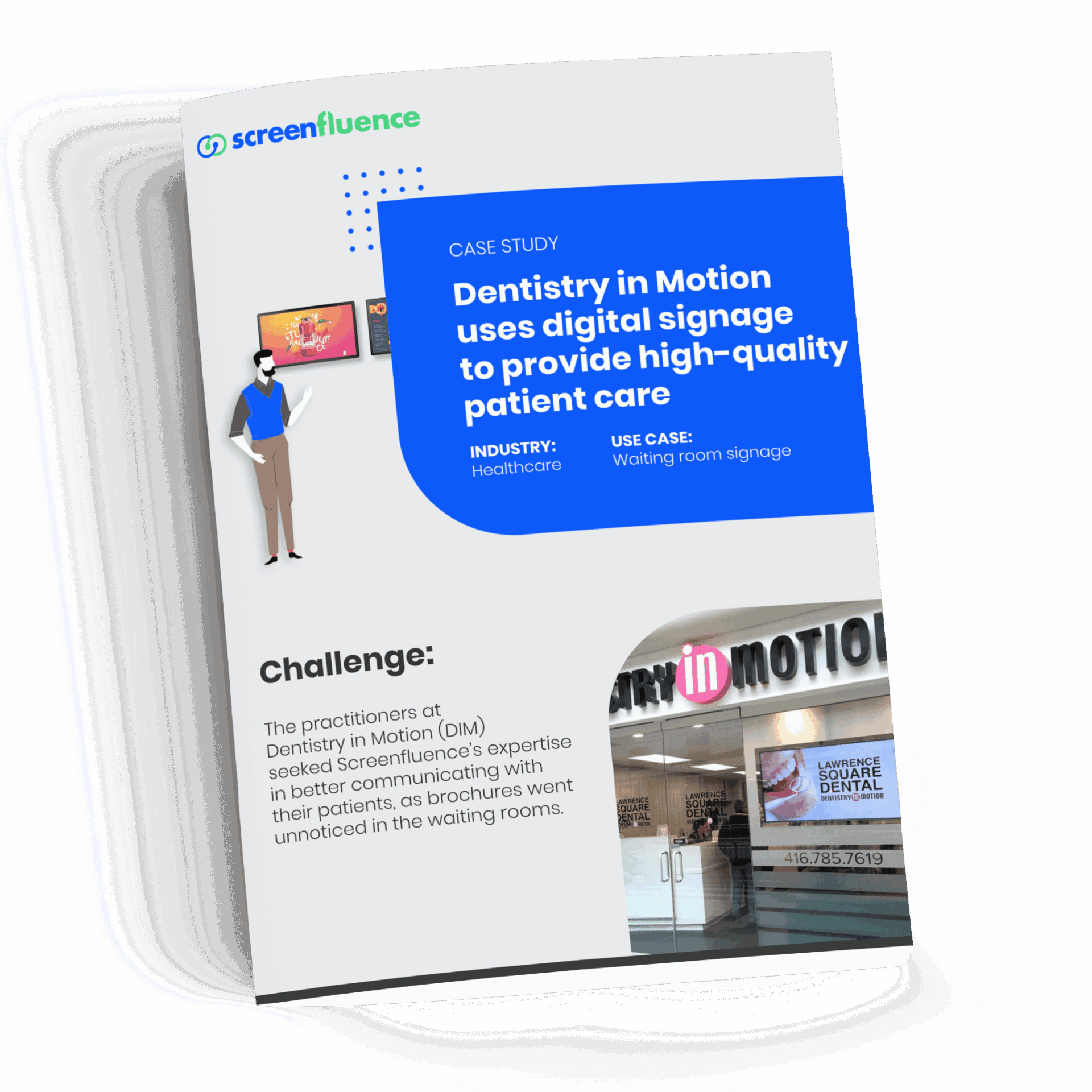 Case Study: Dental Digital Signage
How one dental clinic used digital signage to increase patient awareness, generate organic patient conversation, and increase revenue.
Download Now
Inform And Educate
Using your existing office television, digital signage can easily inform patients of vital dental health and hygiene information. Techniques for brushing, flossing, rinsing, and more. It may seem basic, but remember: some of us need to be reminded.
What's more, the younger generation is dropping the ball on this as well.  A new study into the dental hygiene habits of 2,000 Americans found three in ten millennials only brush their teeth once a day. A far cry from the three times a day my dentist always told me while growing up.
It gets worse, a separate study found that 20% of people NEVER FLOSS. And only four out of ten Americans floss at least once a day. From a patient care standpoint this is disturbing. From the perspective of your practice: it's a huge opportunity to inform and educate your existing patients on the best possible habits and practices to ensure their dental health and hygiene.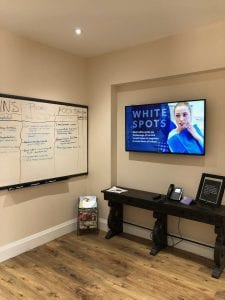 Use digital signage to transmit important information to your patients, such as how much damage that Red Bull might be doing to their teeth.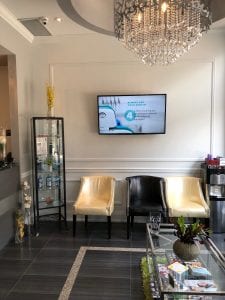 Or, let them know that it's okay to ask about getting their teeth whitened. Patients may not know enough about the process or if they're a good candidate for the procedure. By using digital signage, you can start the conversation at a time when patients are most likely to be receptive: while they're in the office already.
Benefits of Digital Signage for Dentists
There are a multitude of benefits to taking your waiting room digital. Beyond education and information, digital signage can also aid in reducing perceived wait times. Digital signage can also reduce the burden on office staff buy providing important information to waiting patients; eliminating their need to inquire further.
Using carefully curated, dental-specific content, Screenfluence Dental works with your existing office television and provides hours of helpful, relevant information for your patients. Customize your content to be practice-specific or enjoy the multitude of existing content sure to boost your waiting room's appeal.
Digital signage is a home run for any business. But digital signage for dentists? That's a grand slam.