We're pretty sure it's safe to say that going to the doctor and visiting a hospital aren't activities that top most people's lists of "fun things to do". As a healthcare professional, you have the arduous double job of attending to the health concerns of patients and managing your office. Generally, adequate office management requires the intake of patients who often have to be seated in waiting rooms before seeing their doctors.
This is where digital signage can come in very handy. By providing both information and entertainment, digital signage can take much of the weight off of your hands. This "weight" often comes by way of the nervousness and trepidation many patients feel. In addition to their medical issues, many combat fears of unfamiliarity with their surroundings. Digital signage can work to entertain, educate and get visitors of your clinic better acquainted with their surroundings.
Here three of the top benefits of healthcare digital signage:
1. It makes wait time a lot less painful.
I just love waiting around for my name to be called…said no one ever. Waiting rooms aren't just boring. But, if we're being honest, waiting rooms at hospitals and other medical facilities are often locations where nervous people sit. Your digital signage has the ability to perform a great service through its entertainment capabilities. You can run short humorous videos or even display medical-related jokes. It's your choice. No matter how you decide to entertain your waiting patients, you will make the wait time feel like it's much shorter than it actually is.
"Time moves very slowly when patients, family and friends have to wait in reception areas," notes Till Carlos on Sixteen-Nine.net, "It can take hours to get attention and resolution, and screens in waiting areas are a powerful tool to explain hospital services and amenities – even just helping locate a coffee shop in what can be a labyrinth of hallways and connected buildings."
2. It helps patients to find their way around.
If you operate your practice in a hospital or large medical building, many of your first-time visitors likely end up getting lost. With digital signage present in waiting areas and/or front lobbies, patients are able to better acquaint themselves with the facility. On what floor is my doctor's office? Which room is the office located in? Where are the elevators? Is there a snack shop in the building? These and other important questions can be answered by your digital signage.
"If your practice is located in a large building or includes many offices, it can be confusing for visitors to navigate," affirms Spectrio, "You can alleviate this complication by using interactive maps and directories near the entrance to your location. Unlike static maps, this interactive tool condenses and personalizes information so your visitors only see the information they need, which helps them find their way easier and faster."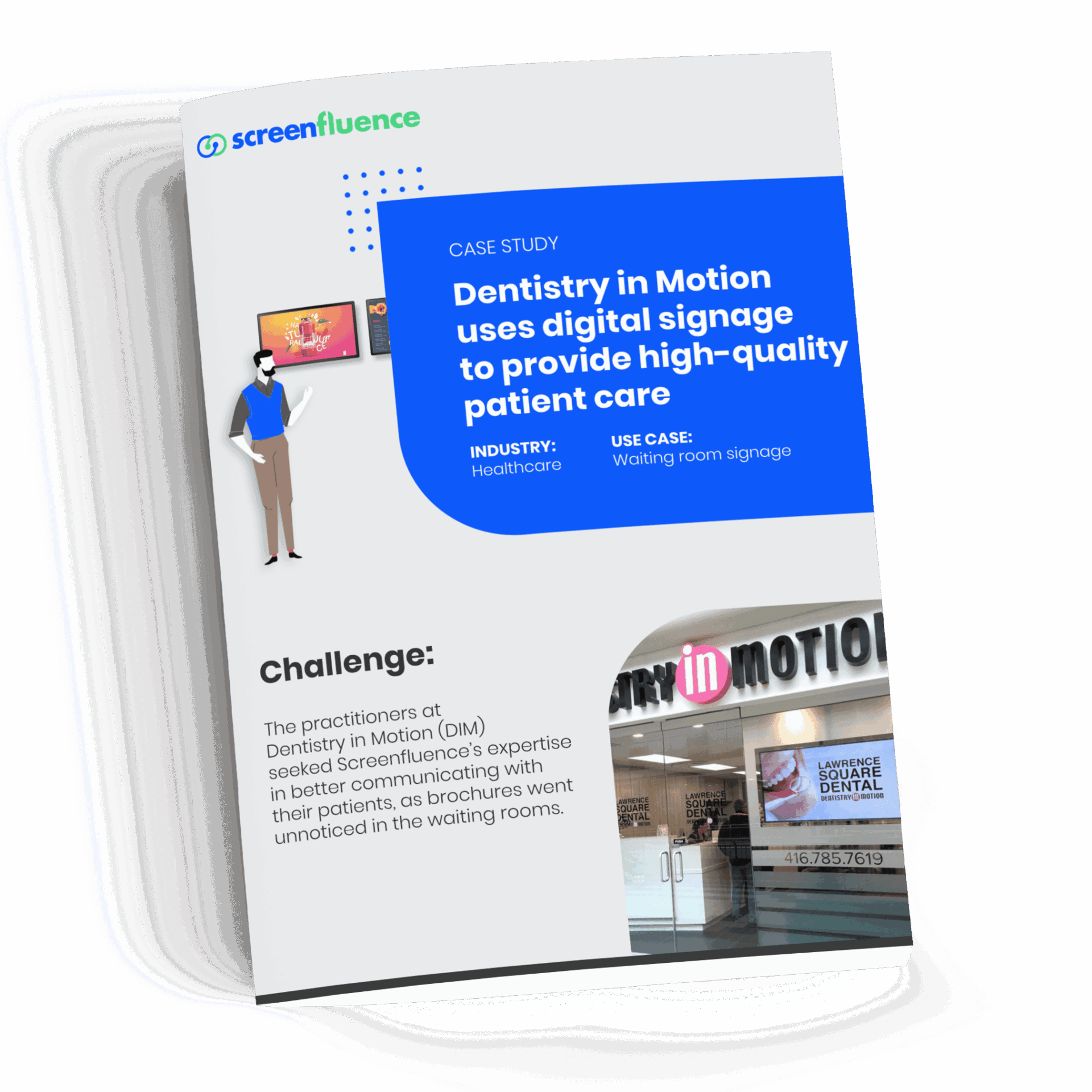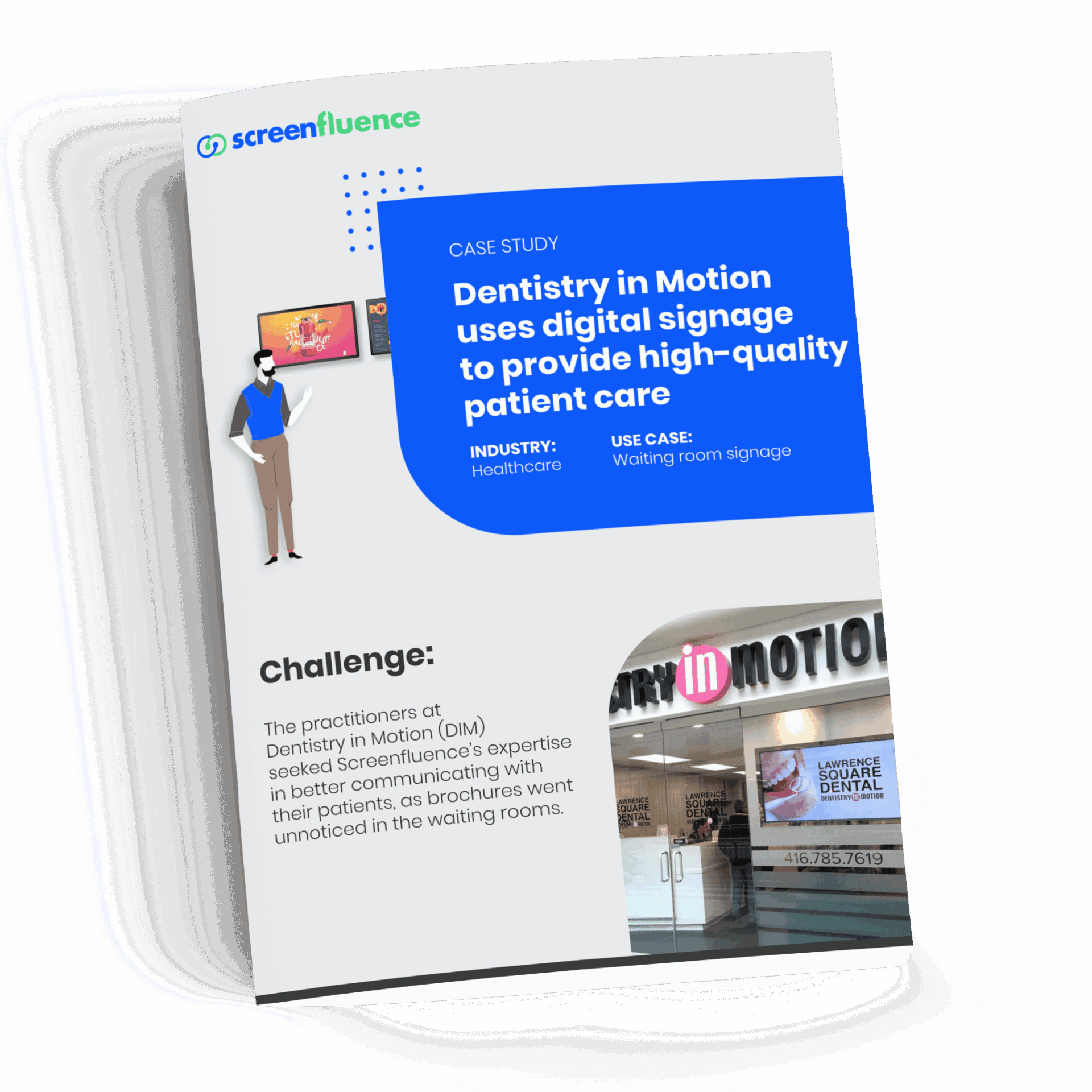 Case Study: Dental Digital Signage
How one dental clinic used digital signage to increase patient awareness, generate organic patient conversation, and increase revenue.
Download Now
3. It betters communication with your employees.
Who said digital signage in your healthcare facility was all about the patients? Okay, maybe we did. So, allow us to inform you that medical professionals nationwide thoroughly enjoy the use of their digital signage for the purpose of coordinating their offices. Relay messages, display calendars, schedule meetings – you name it. The digital signage around your office can be used to communicate information that keeps your entire staff on the same page.
As Carlos explains, "event schedules, meetings, conferences, schedule changes or other updates of the similar kind you'd ordinarily call, email or message for, can be easily shared using your digital signage network. Shorter data may be easier to circulate around your establishment, but elaborate emails or detailed explanations often go unread in time."
For information about how Screenfluence can help your healthcare office to benefit from using digital signage, please don't hesitate to contact us by calling 1-844-772-7336 or emailing info@screenfluence.com.