When it comes to the day to day operations of running a dental office, there's a lot going on. There's scheduling and performing services, communicating with patients, and more. Unfortunately, it doesn't leave a whole lot of time for one of the most important tasks. Dental patient education.
With Screenfluence Dental Works, we make dental patient education a simple task in a busy office by harnessing the power of digital signage.
How Does It Work?
Using your office's existing television equipment, Screenfluence Dental Works transforms your screens into a powerful tool for dental patient education. This is a practical, plug and play digital signage solution which allows the office to broadcast important information to patients while they wait.
Because after all, who wants to read the same old issue of Time Magazine?
The product comes pre-loaded with a carefully curated library which spans over 50 dental-specific topics. Teeth whitening, implants, hygiene tips, and more. This allows offices to present much-needed information for patients, regardless of their dental needs.
The technology works with most modern television and does not require specialized equipment. For offices which want to really take charge of their content, Screenfluence Dental Works also allows for practice-specific customization:
Doctor and staff bios/pictures may be uploaded to let patients know who is responsible for their care.
Display office hours or contact information
Display insurance procedures or office policies
And more.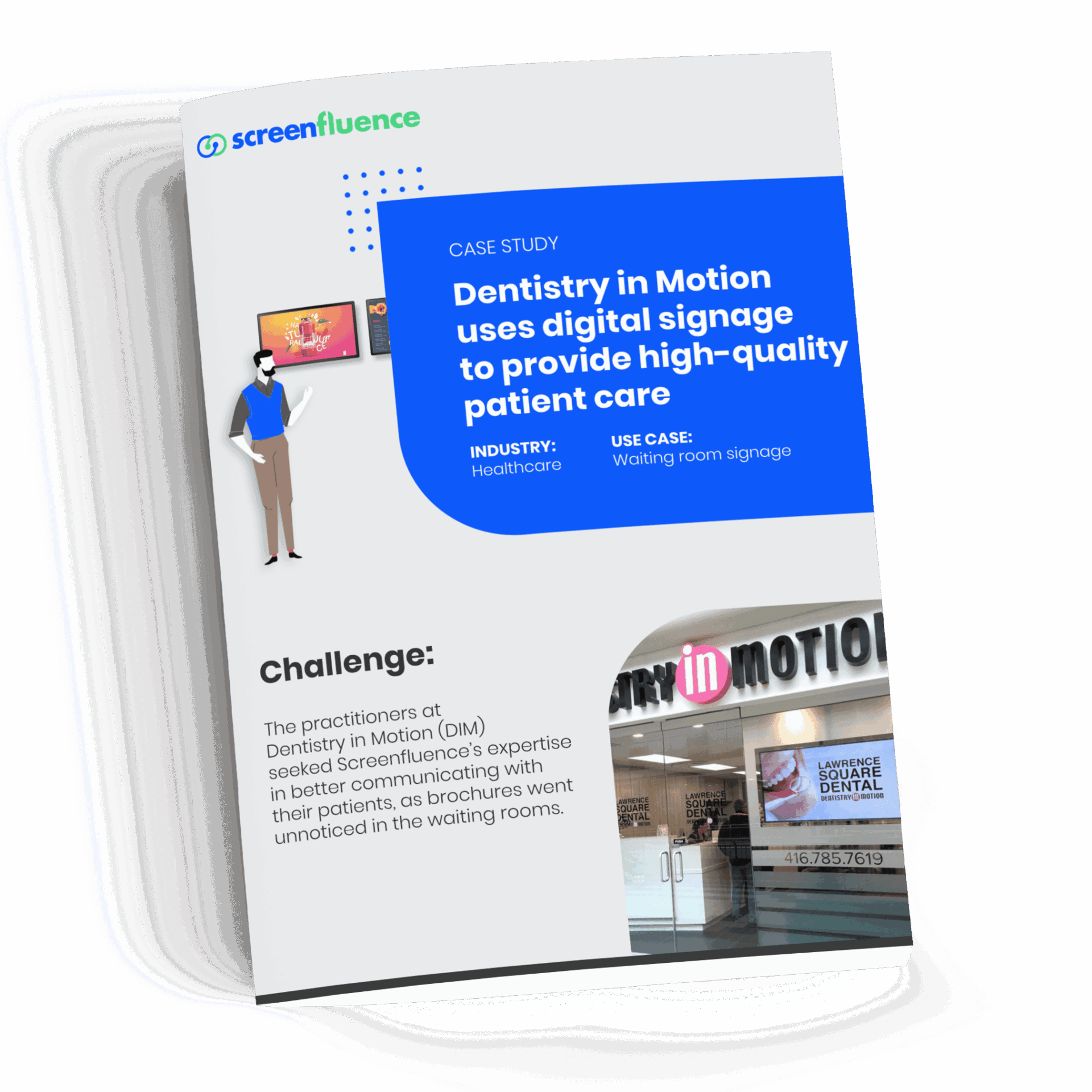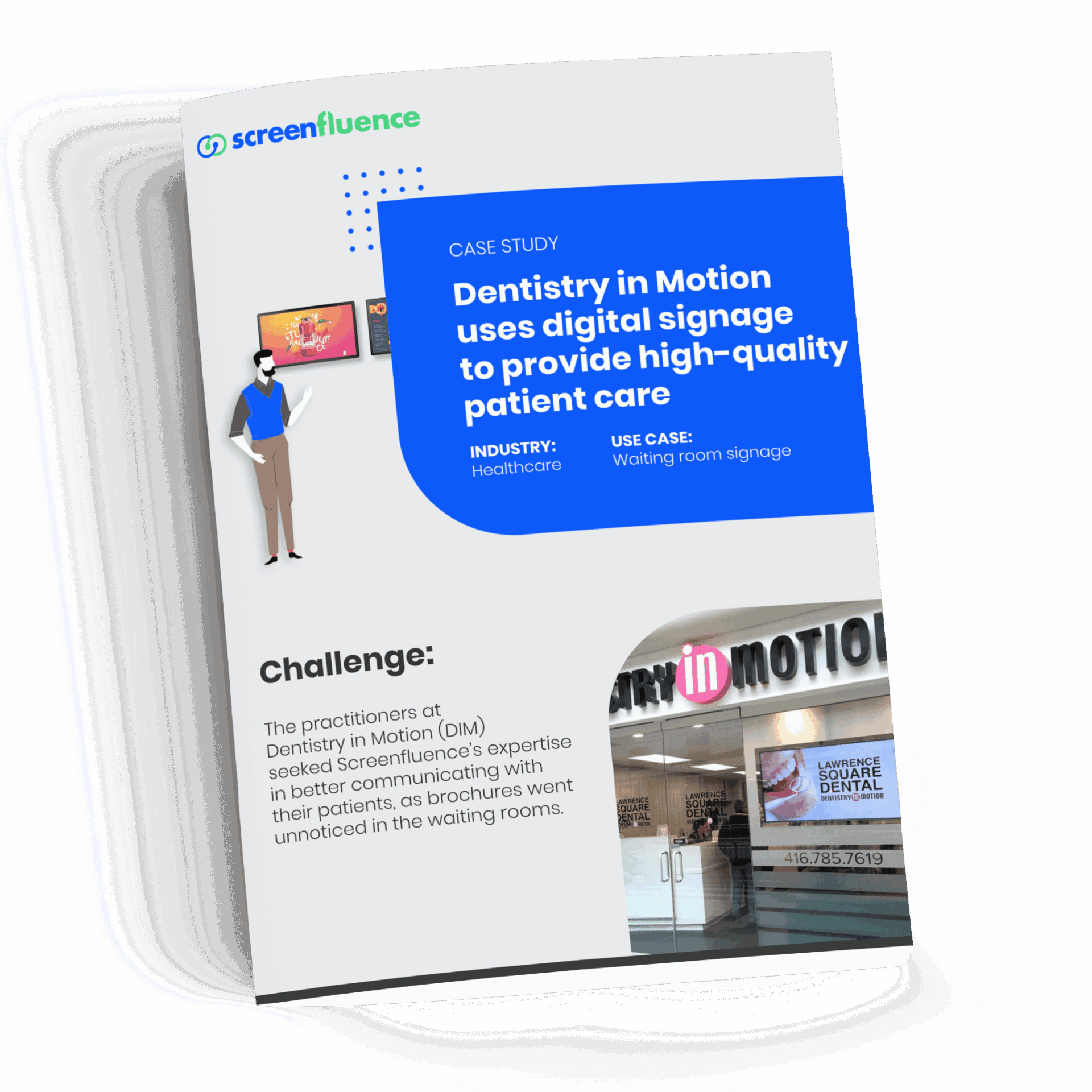 Case Study: Dental Digital Signage
How one dental clinic used digital signage to increase patient awareness, generate organic patient conversation, and increase revenue.
Download Now
Make Dental Patient Education A Priority
A waiting patient is uniquely suited to be receptive to new information regarding their care. After all, they're already there. However, they may have questions, comments, or concerns which they aren't comfortable voicing. Using Screenfluence Dental Works, offices can make dental patient education a priority without having to lift a finger.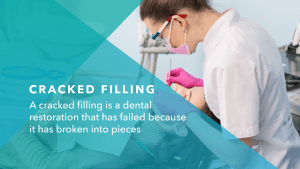 Not all patients feel comfortable asking questions. With digital signage such as the above, you can let patients know that their questions are welcome. Convey a level of trust as well as receptivity by letting them know you are available to answer questions regarding their care.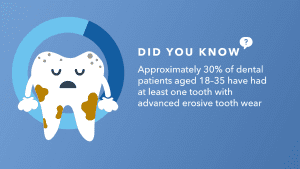 Other signage lets patients know to discuss treatment and service options with their dentist. Is this patient wondering if a dental implant makes sense for them? Let them know to ask! Images can also be uploaded to reflect practice-specific services.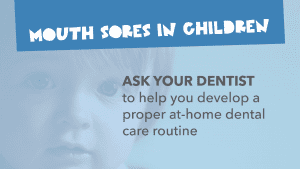 Dental patient education is a priority for all offices. However, the opportunity doesn't always present itself as ideally as we would like. With a digital signage solution, offices can promote services, answer questions, and provide valuable information for patients while they wait. There are even fun and educational trivia and games for kids to enjoy.
When patients feel empowered to take part in their treatment, everybody wins. The wait time spent in the office no longer has to be a black hole of productivity. With digital signage solutions, that time can be more educational as well as productive.
Screenfluence Dental Works is currently available in the Toronto area. However, it will be expanding in the coming months across Canada as well as North America. Contact Screenfluence today for more information.