Having digital signage is becoming common place in almost all industries and that includes the dental industry. Digital signage allows you to convey messages, advertise, and bring in more business. It also doesn't lock you into one sign for a long period of time. Unlike traditional signage, digital signage has everything consumers are looking for: bright lettering, that is clear and built to engage them. Here are five benefits you can get from a digital sign at your dental practice.
Preventative Care
One of the most important parts of a Dentist's job is to empower their patients to take control of their own health. A digital sign is the perfect place to provide the preventative care information that your patients need to help safeguard their teeth from problems down the road. You can have your information change, and cycle through a large number of tips so that there are new ones coming in regularly.
When your patients get the tips they need to take better care of their teeth they end up being happier and healthier clients.
Waiting-Room and Operature Displays
Your waiting room is just that, a room that your patients wait in. Everyone knows that waiting is no fun but with digital signage, you can at least make that waiting time informative. Digital signage in the waiting room allows you to display a variety of useful information to your patients, such as treatment information, health tips, common dental problems, and more. With valuable information to read, your patients will forget about the wait times.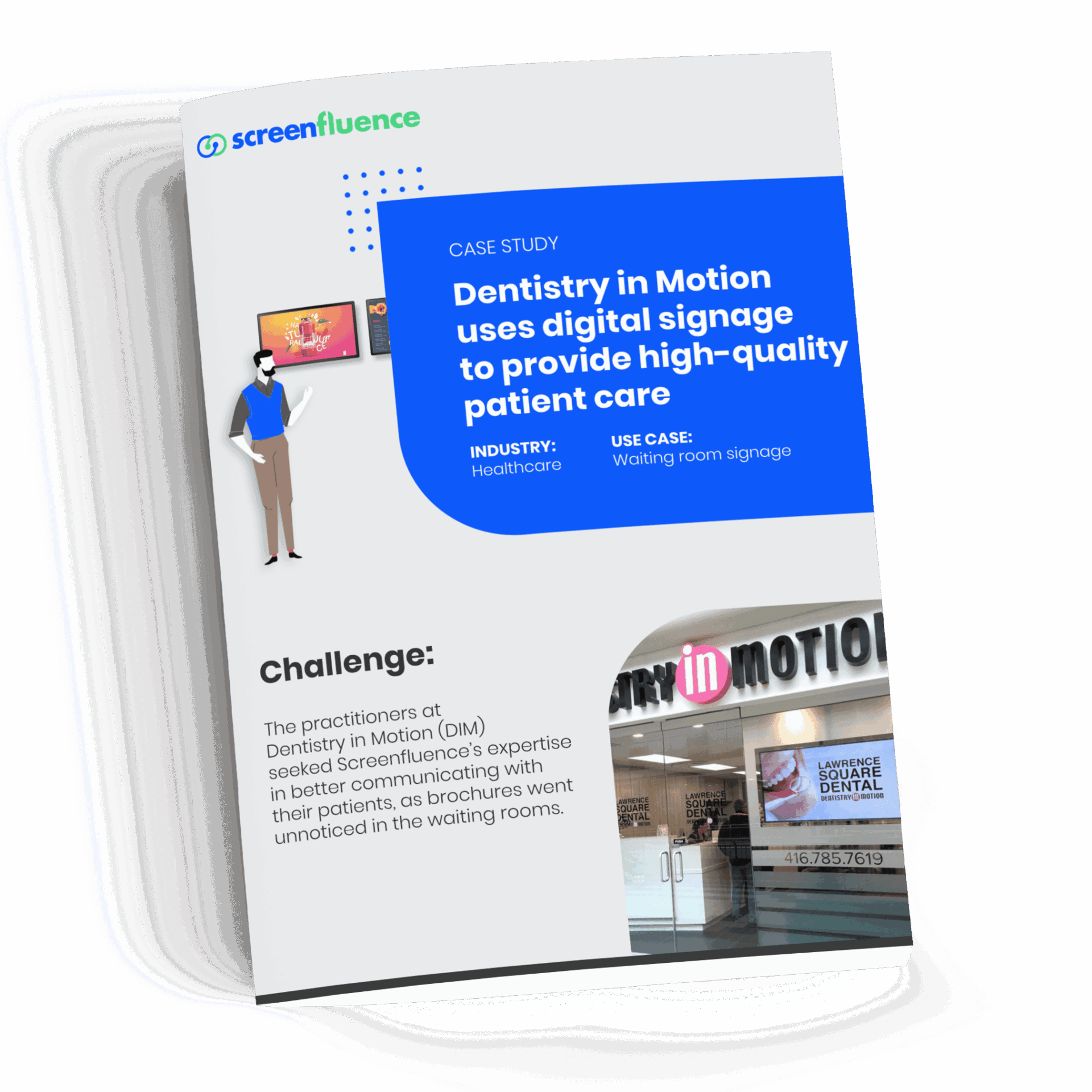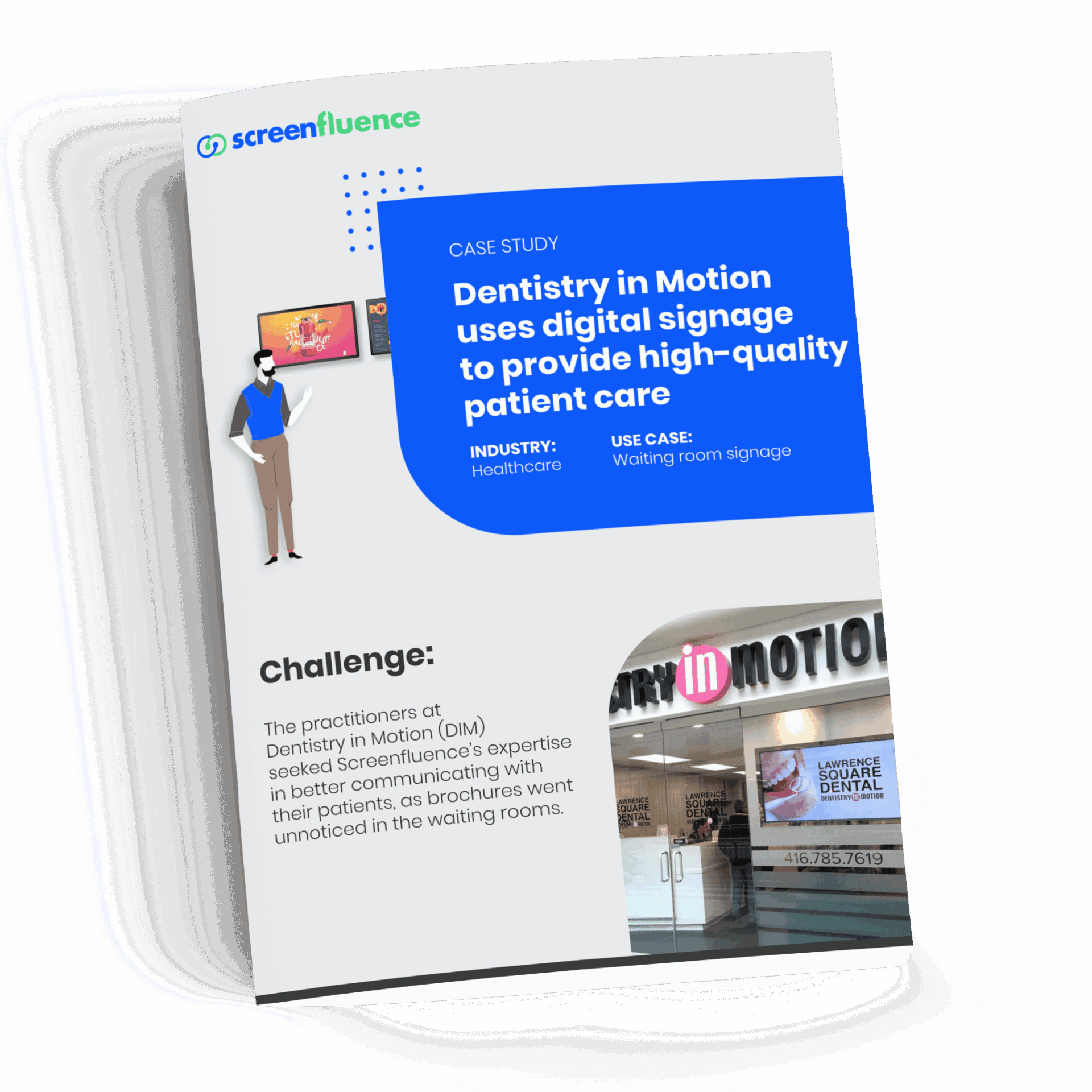 Case Study: Dental Digital Signage
How one dental clinic used digital signage to increase patient awareness, generate organic patient conversation, and increase revenue.
Download Now
Empower Employees
The use of digital signs isn't limited to your patients, many companies have started to use digital signs in their break rooms and conference rooms to provide information that their employees might want, or need, to know. There are also often safety updates or industry new bulletins that you will want your staff to know, signs are the perfect way to do that.
Being able to put employees on spotlight for the good deeds that they do is a perfect use for signs. That allows employees to strive to be the best that they can and offers a way for them to be rewarded for it.
Up-Sell Products
Almost all dentists have some products available for sale at the office but they lack the power to sell them because the products aren't as visible as those at a store. Digital signs serve as a method for selling these products. You can advertise the product in the form of "Ask Your Dentist About…" or "Your Dentist Recommends…" statements. These statements bring life to the products and encourage people to purchase them.
While some people may think this appears tacky, by using "ask your dentist about…" statements and others like it, you aren't just flat out advertising your product, you are implying that the dentist recommends the product. People want to use the products that their dentists recommend because they trust them.
Educate Patients
There are always things that patients need to learn how to do and digital signs are a great way to do this. Educating patients involves giving them the tips and tricks that get them through everyday tooth care. Digital signs make this great because you can rotate through different pieces of advice without it getting old. Depending on the signage that you choose you can also opt to display images or video to help educate patients.
Patients often don't understand what you try to tell them at the bedside, this is because medical concepts can be hard for people to understand outside of the medical field. A digital sign can help you educate patients in the patient room by offering them graphical displays of problems or issues.
"Catching up with the digital age is important and digital signage is one of the best ways to keep up with what your customers want. Don't forget that your signage can also display alerts and emergencies so that you can quickly notify anyone needed. It all comes down to the fact that digital signage empowers your dental practice and you to better serve your patients in the way that they want to be served."