Let's face it; nobody wakes up in the morning and says "I hope I can spend a lot of time in a waiting room today." It's no secret that medical offices often overbook their schedule to make up for no-shows. Sometimes this leads to back-ups in the waiting room and that causes frustration for everyone.
Doctors don't want to anger patients who are already not feeling well, the office staff doesn't want a roomful of angry, frustrated people, and most importantly; patients don't want to have to wait around all day feeling like this office doesn't care about their time.
Per a recent survey; 85% of patients report wait times between 10 and 30 minutes at the doctor's office. On the low end that may not seem like much, but a staggering 63% of those surveyed reports that the MOST STRESSFULpart about their doctor visit is: the wait.
What's more, people tend to overestimate their wait time. Frustrated, and with little to do, 5 minutes can seem like 10 minutes, and 10 minutes; an eternity. But what if there was a way to ease everyone's mind, distract their attention, and maybe even change the patient's perception of how long they're actually waiting?
Enter: Digital signage for waiting rooms.
Going Digital
There are several techniques that waiting rooms have tried to reduce perceived wait times. Offering magazines, chatting with waiting guests, or playing music have all been tried. Unfortunately, not everyone wants to chat, some music gets on people's nerves, and a six-month-old issue of Time Magazine doesn't always cut it.
Digital signage is a unique solution in that it offers a variety of options to educate, entertain, and distract clients or patients while they wait for their turn. Through these efforts, digital signage can reduce the perceived wait time while adding value to your office.
On Education
Assisting and informing patients is one of the golden benefits of going the digital signage route in your medical office. The possibilities are limitless and the benefit to the staff and client are great.
Demonstrate preventative techniques such as exercises or home remedies for common ailments.
Educate patients on the risk factors and symptoms of certain conditions.
Important information regarding insurance or payment plan options
For offices that sell additional products or services (such as spas or cosmetic procedures); your digital signage can also be used to demonstrate additional offerings. This can be achieved through recorded video of a procedure, or through video testimonials from past patients.
Demonstrate patient check-in procedure, or outline what to expect from your visit as well as follow-up steps.
Staff bios can help introduce patients to their caregivers and allow them the opportunity to familiarize themselves with them.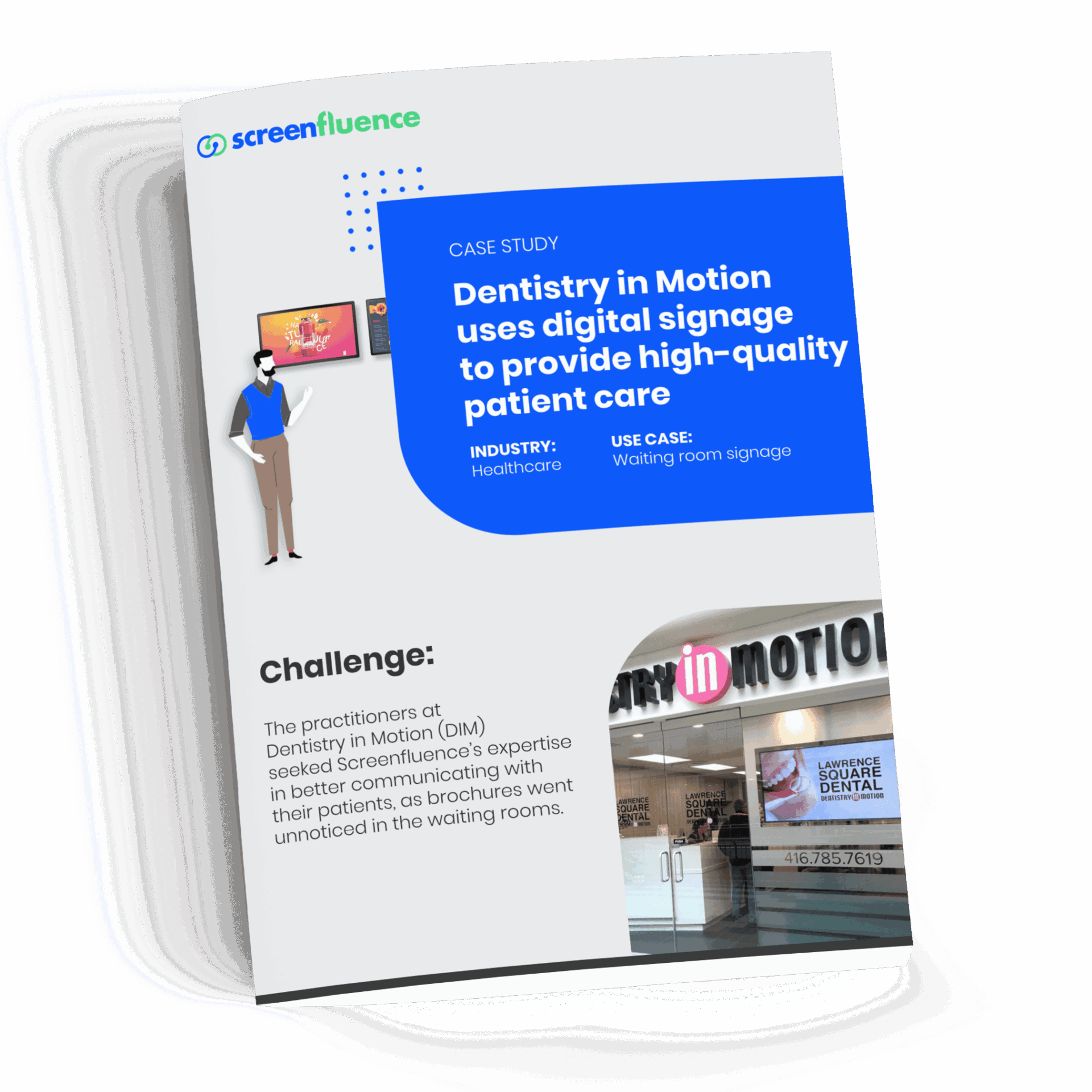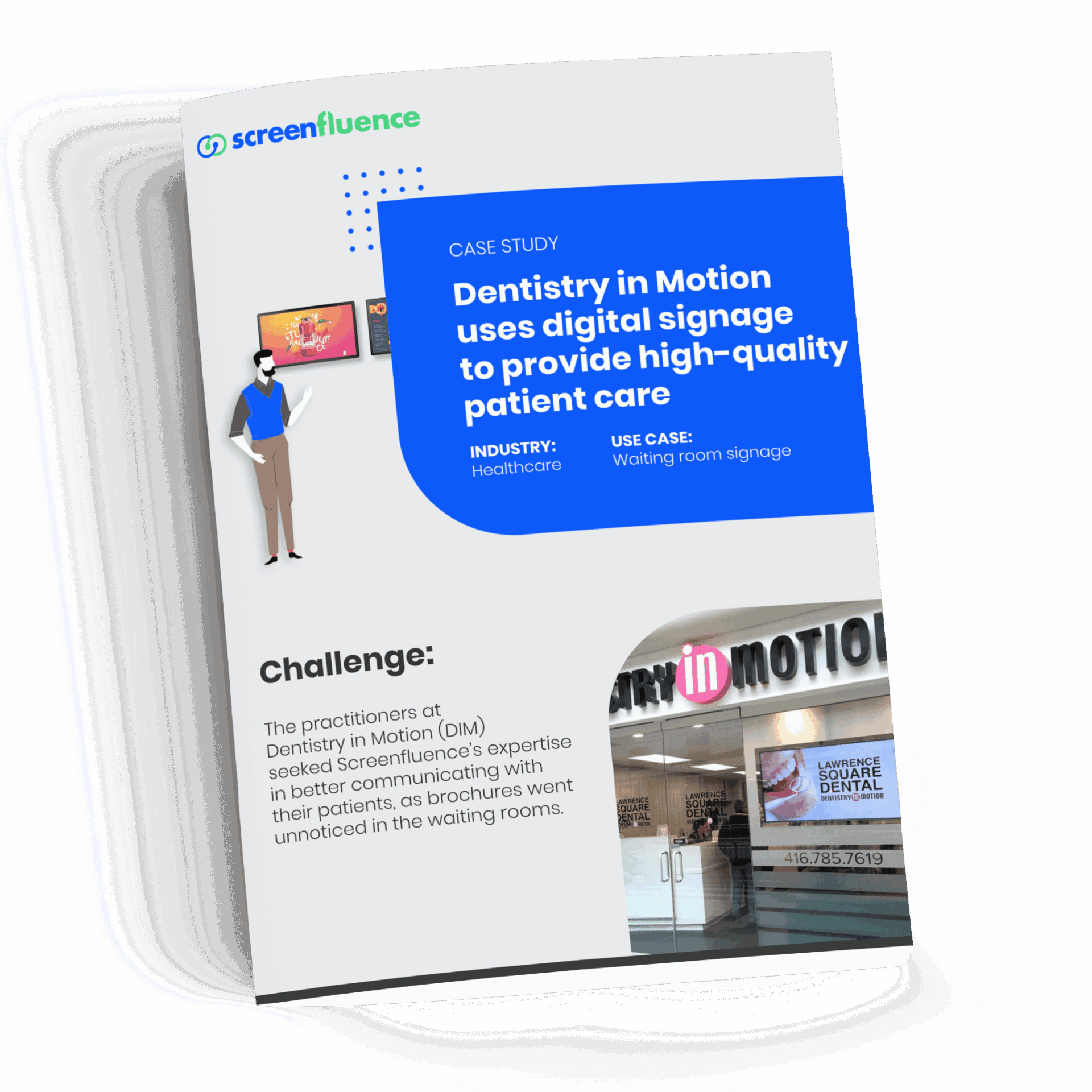 Case Study: Dental Digital Signage
How one dental clinic used digital signage to increase patient awareness, generate organic patient conversation, and increase revenue.
Download Now
On Entertainment
Businesses would be wise to use the opportunity to promote themselves, however that doesn't always have to be the case. Your digital signage can easily be programmed to show music videos, movies, soothing pictures, or other forms of entertainment.
Best Practices
Select the proper digital signage solution for your business. Many options exist and often businesses are swayed by providers that overpromise and underdeliver.
Entertainment options should be appropriate for a wide variety of audiences, including children.
Create a schedule of content that repeats, but not too often. While you want to convey important information, you don't want them to become frustrated by hearing the same thing repeated too frequently.
Showcase your social media channels regularly and encourage engagement through that platform as well.
Digital Distraction
The true benefit of digital signage is in the various applications it offers. Unlike a television, digital signage is not tied to a programming schedule. Unlike a magazine, digital signage doesn't have to wait for next month's issue. You control what to display and when to display it.
The versatility of this technology combined with the attention-grabbing nature of it makes digital signage the best option for reducing perceived wait time.