We can't quarantine forever; the results would be disastrous for both our mental health and our economy. As the severity of the COVID-19 pandemic begins to lessen, we're seeing businesses slowly take steps toward returning to life as we knew it before – or at least, as close as possible. 
To get back to business smoothly and safely, businesses need to focus on three main things: safety, communication, and technology. Digital signage can help with each of these. We'll walk you through how to leverage your digital displays when reopening your business.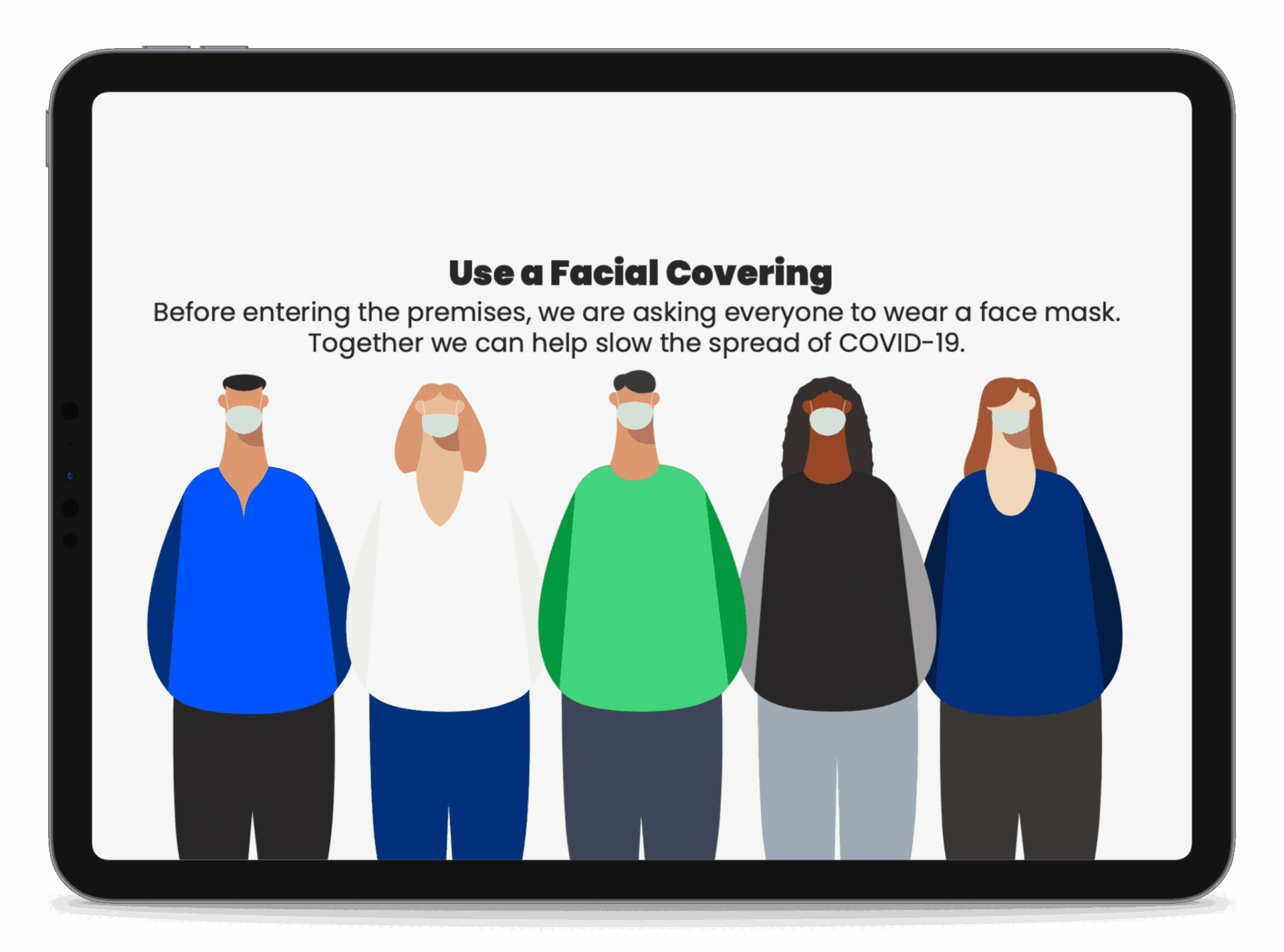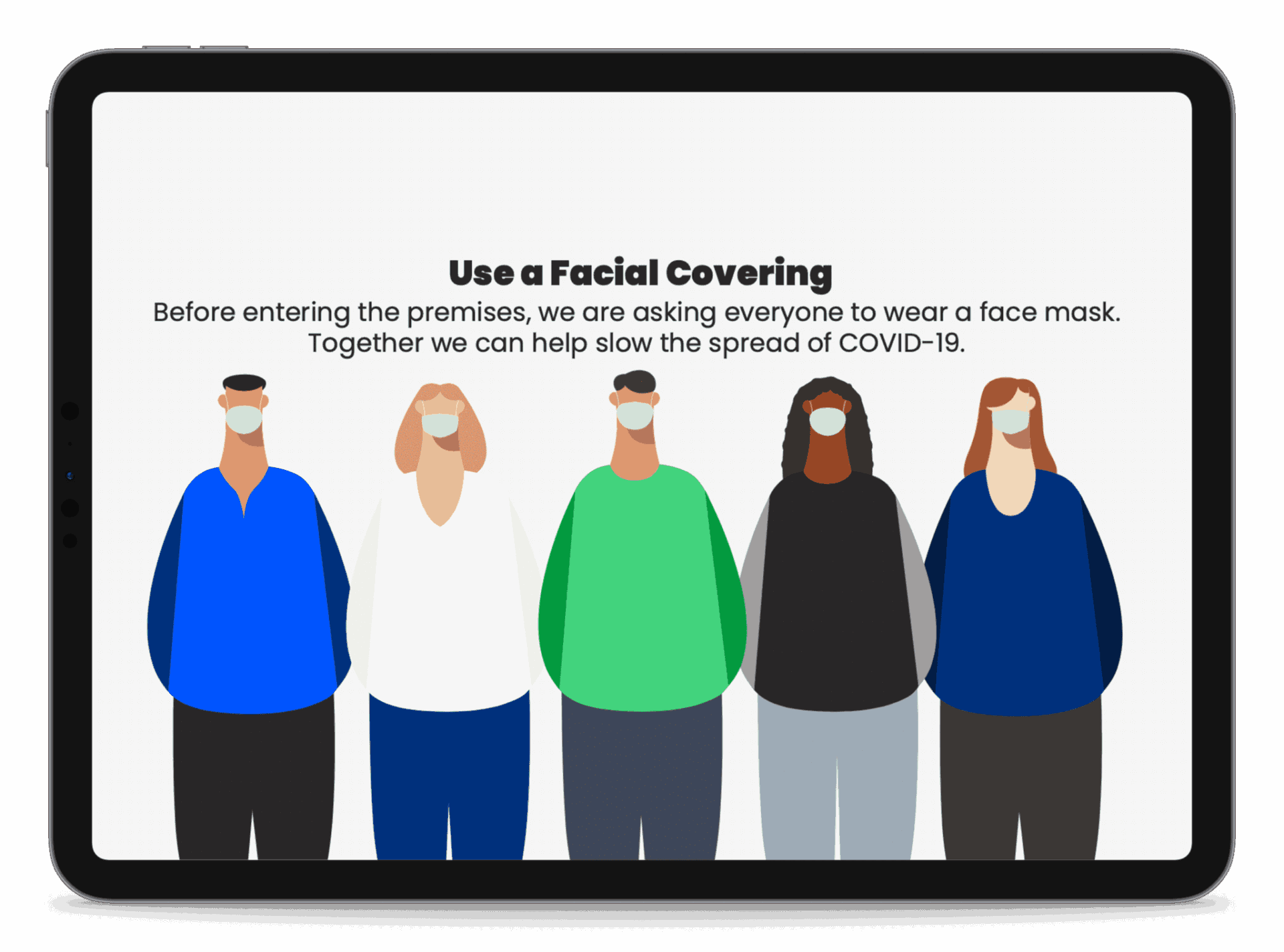 Free Digital Signage Templates for Reopening
4 beautiful templates to display up on your screens that will help you smoothly reopen your business and keep everyone safe.
It should be a no-brainer that any business looking to reopen should prioritize public safety and follow the lead of health authorities in continuing to flatten the curve. 
Employers should ensure that all staff and visitors at your office, store or work space are keeping a safe distance from each other and wearing face masks. Many places have even come out with branded face masks and use these safety measures as an opportunity to create brand awareness while helping fight the pandemic.
Having clear reminders about health and safety guidelines throughout your workplace will make your transition back to work so much easier. 
Digital signage can be a great tool to add to your pandemic-fighting arsenal. It's a contact-free way of updating your business displays at a low-cost. Now more than ever, it's important to switch away from printed posters and flyers that take a lot of time, money, and physical contact to update. With digital signage software, you can easily manage your screens remotely from any device, so you can update your screens from a safe distance in no time.
Safety standards are necessary, but won't make any difference if they aren't clearly passed along to everybody involved. Now is not the time to start a game of broken telephone. 
Your new safety standards must be communicated to any contractors, employees, or other staff that work at your business. This can be done by updating your digital signage, sending out company-wide emails, or holding information sessions. Don't forget about suppliers and guests that visit your organization. They've always been a critical part of your business and they're looking at how you're staying safe too!
Using digital signage in your lobby, break rooms, sales floor, and other central locations in your business will help you standardize your messaging across all audiences, whether that's employees, customers, or business partners.
If your business has a storefront or you're offering in-person appointments, your customers are probably wondering what that experience will look like right now. You need to answer their questions before they even voice them. It's the best way to appear prepared as you welcome customers back into your business. 
Tell your customers what your new hours of operation are, what services you're offering right now, how they can book their appointments, and how long the wait times are. What better way to do that than with digital signage?
Digital signage is an indispensable tool when you're reopening your business. Not only is it an eye-catching and easy-to-read form of visual communication, but you can also easily update it with relevant information. With government rules and reopening regulations changing rapidly, your business needs to stay on top of your game. You can repurpose your displays for different goals such as employee message boards or customer-facing announcements to re-invite your loyal regulars into your business.
If your business is seeking free digital signage templates to help communicate with your employees and clients, Screenfluence has you covered. We've prepared all the reopening digital signage templates that your business needs, including COVID-19 safety tips, social distancing reminders, and hand-washing guides.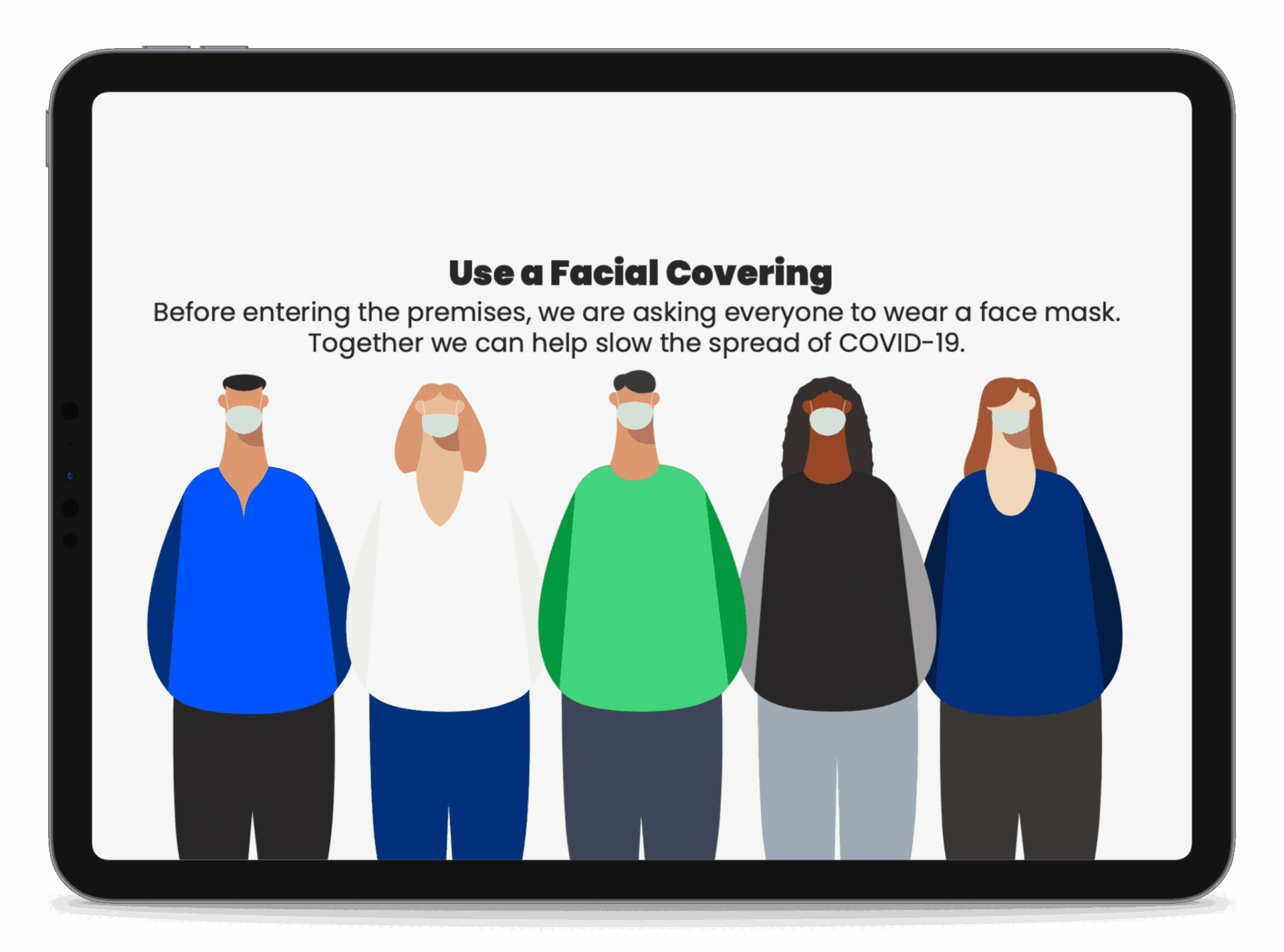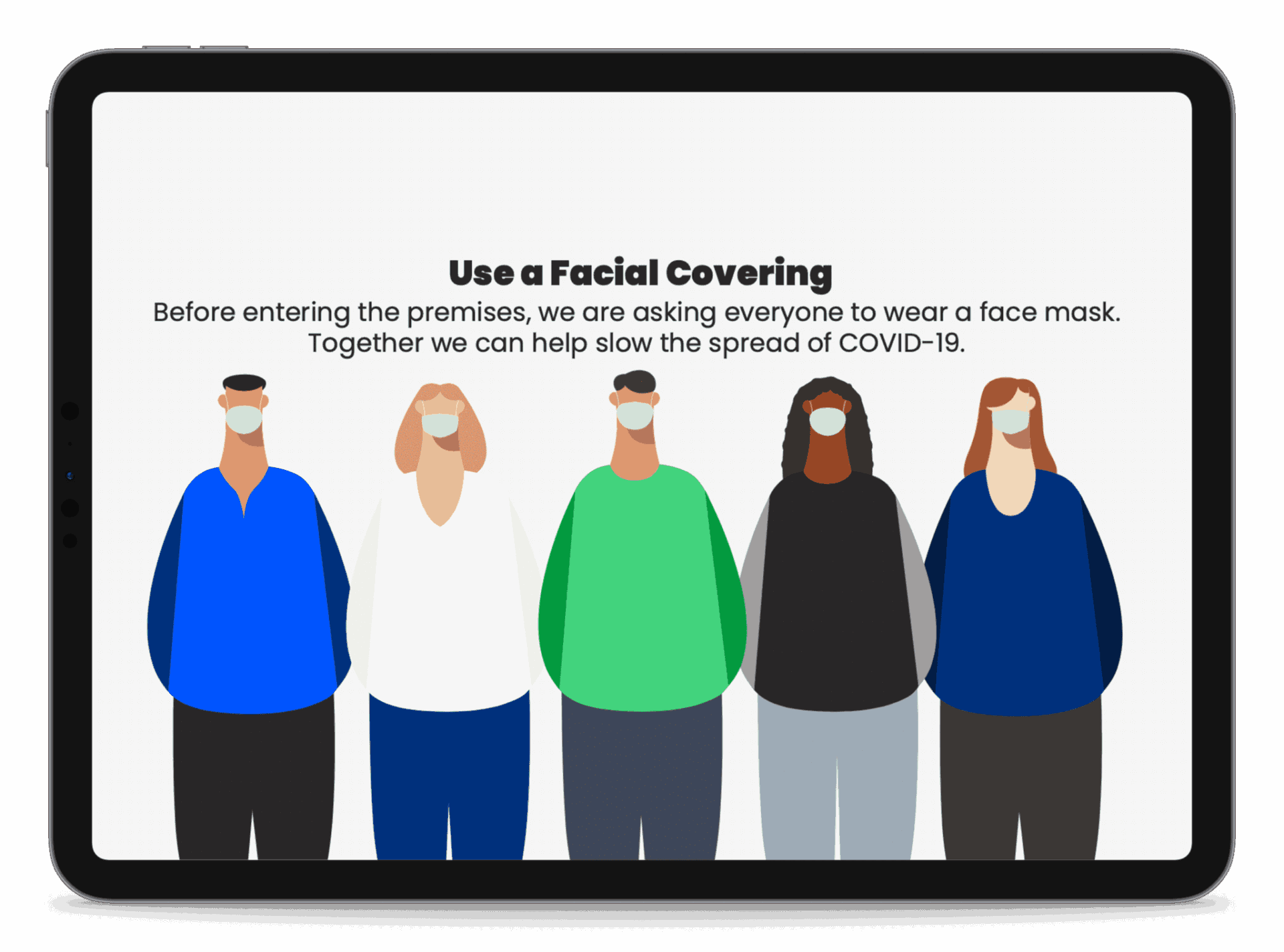 Free Digital Signage Templates for Reopening
4 beautiful templates to display up on your screens that will help you smoothly reopen your business and keep everyone safe.
New apps and other software are available for businesses to manage reservations or appointments. Leverage new technology to better handle your maximum capacity and prevent workplace overcrowding or confusing lines from forming outside. If you haven't already, this is the time to explore your options for online ordering of products or services, as well as virtual consultations or events such as webinars.
Digital signage software like Screenfluence is also available to clearly communicate new regulations and updated information to your employees, those visiting, or even just walking past. Eye-catching loops that are easy to update with the latest bylaws that pertain to your business are a great way to attract clients and provide a sleek and modern feel as opposed to old paper flyers that are expensive and wasteful.
Working Together, We Can Make it Better
It all ties together in the end. We need clear safety guidelines, a great communication plan, and the technology to make it happen. 
The first few weeks of reopening will be the toughest as regulations are rapidly changing, and we adapt to the information that is given to us. It's going to be difficult. We might stumble and fall. But the tools to make it all work are readily available.
For those looking to boost their customer and internal communication plan, Screenfluence has easy-to-use digital signage software to get your point across. Find out more about how digital signage can help you reopen your business.