Developing strong relationships with your customers is a top way to ensure long-term loyalty. There's not a business owner alive who doesn't love repeat business. Growing your bonds with those who support your brand should be a higher priority than simply advertising to the masses. The digital signage displayed in your place of business can be a great relationship-builder. It enables you to more effectively communicate with your visitors.
"Effective communication is one of the primary benefits of digital signage," insists Kyle Lauber of Star Micronics, "It is an interactive gateway that allows businesses to communicate directly with customers, engaging them while they are in the store. This strategy pays off—according to Independent Retailer, digital signage can increase overall sales volume by nearly 32%."
Are you ready to set up digital signage for your franchise?  It can be done in four simple steps! 
Add your content.
In order to display content on your digital signage, you need to select the images, videos and presentations you want seen. Upload the files of your choice to your library and store them in folders. This will help you to stay organized. Remember that you can change your digital screen content as often as you wish. Therefore, having easy access to relevant files is a must. Simply drag and drop as many images, videos and presentations as you want to create your displays. 
"Digital signage is one of the most customizable forms of publicity and a virtual guarantee that the message will be seen by its target audience," notes Lauber, "Merchants may use the same digital interface to influence customer behaviour by creating eye-catching displays and showcasing brands or services, which will ultimately drive sales and boost profit margins."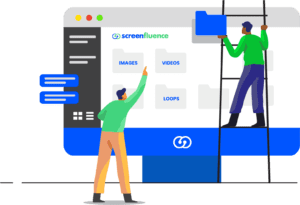 Create your loops.
As the name suggests, loops are the rotations of the content on your screens. You have the ability to set up each screen as you wish and determine how long each display is shown and how often it rotates. 
Essentially, a loop is your playlist. Have you set up music playlists on your Spotify account? Think of it that way. What playlist do you want your visitors to view each day? Create as many loops as you like and use different playlists at different times in order to achieve different goals!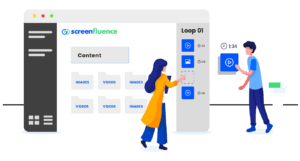 Schedule your content.
When do you want your content to play? Should it change depending on the time of day? You are in full control of the content displayed on your digital signage. You can determine if you want certain content to be shown during the morning rush and something else displayed in the evening. You can schedule content to play at a certain time, day, week or even a specific date. You can even set it to appear and expire on the dates that you choose. 
"One of the benefits of digital signage is that you can program your displays to change throughout the day," affirms Laurel Wright of Promotion Technology Group, "This isn't possible with traditional forms of signage – or at least not very convenient. For example, most fast casual and fast food restaurants use menu boards to display their prices. Many of them would also benefit from changing their prices during the morning commute, the lunch hour rush, and for happy hour."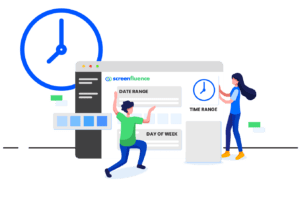 Launch your screen.
In order to launch your screen, simply turn on your player and connect it to the internet. Within minutes, your content will start to play. As long as you're happy with the content, you won't have to lift a finger to change anything. Remember that old "Set it and forget it" slogan that was used to advertise a rotisserie appliance? You can apply that here!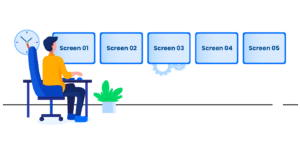 For information about how Screenfluence can help you to set up digital signage for your franchise, please don't hesitate to contact us by calling 1-844-772-7336 or emailing info@screenfluence.com.