Are you using digital signage during the holidays to attract more attention and boost your sales? If not, you're definitely missing out.
For most businesses, holidays equal increased sales. We're not just talking about the end-of-year holiday season either.
Yes, Christmas shopping accounts for the highest sales rates of the year for retailers everywhere. But there are many other holidays worth celebrating – and they almost always entail gift-giving.
Your customers are always looking for the perfect gift to show their love to their families and friends. While doing their holiday shopping, they're searching for tried and true products as well as new releases. So how do you take advantage of your digital signage to turn heads, attract eyes and inevitably encourage customers to do their gift shopping in your store?
Read on to unwrap some tips to help you design digital signage that delights your holiday shoppers.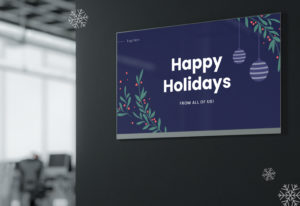 Free Holiday Digital Signage Templates
Spread some holiday cheer this season with three festive digital signage templates. Available as PSD, AI, PPT and Google Slides.
Display your company's holiday calendar.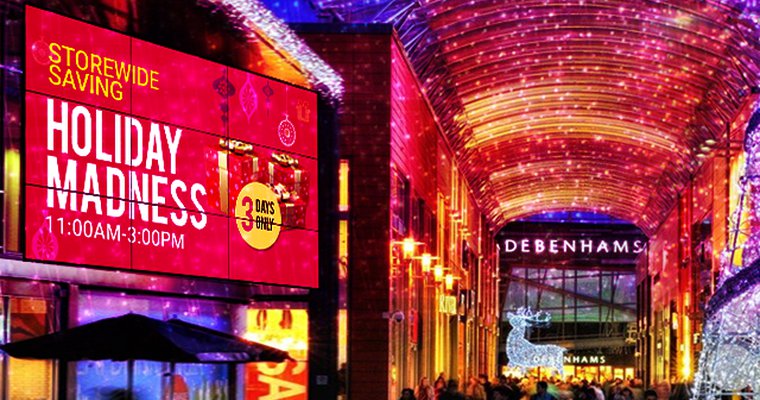 Boosting sales during each holiday season will always remain a top priority for retailers. So, it's wise to inform your customers of all the goings-on in your retail store. When are your sales starting? Are you throwing any promotional events? Are there special deadlines for curbside pickup orders before the holidays?
Design a holiday calendar that makes clear the dates of all your seasonal happenings. Marking notable dates on your calendar and creating business tie-ins is especially important at the end of each year.
Instead of remembering to write an update or promote a deal the day before an event like Boxing Day, make sure to schedule it on your holiday digital signage beforehand so all your customers have time to prepare with the most relevant updates.
Put your product guide on display.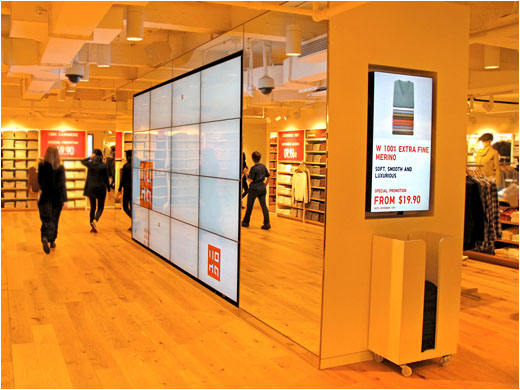 Customers are always eager to find new products for their gifts. So even if you don't necessarily sell the types of items that are traditionally purchased as gifts, you can help your customers discover cool gift ideas in your store.
Create a product guide using both vivid photos of your products and a uniquely-designed layout to showcase your product offering as ideal gift ideas. Remember that no matter the holiday, shoppers are always out looking for ways to generously celebrate their loved ones.
"Valentine's Day, Mother's Day, Father's Day, or even holidays like Memorial Day can be a good fit for a product guide," insists Tessa Wegert of Shutterstock, "When you're marketing your products in the context of (Canada Day), for example, use a guide to promote a summer clothing collection, food items, iced coffee, or accessories for entertaining barbecue guests."
Utilize holiday-themed digital displays.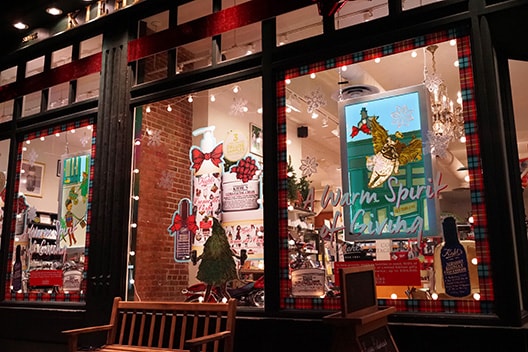 When Valentine's Day is on the way, images of Cupid and hearts only make sense. When Halloween is around the corner, ghosts, goblins and ghouls won't hurt you. And when the end-of-year holidays are approaching, it's practically a must to showcase Santa Claus and Christmas trees. Don't forget dreidels and menorahs too! The point, of course, is to get in on the spirit of each season and change up the standard look of your digital signage designs.
Doing so will keep consumers in festive moods, making them more likely to read your messages and inevitably support your brand.
There are plenty of free design resources available online to design and customize your holiday digital signage with your branding. Some tools like Canva offer free backgrounds, templates, icons, pictures and more to make your holiday digital signage pop.
Not sure where to start? we're here to help you spread the holiday cheer! We've designed 3 festive holiday digital signage templates that you can download for free and customize.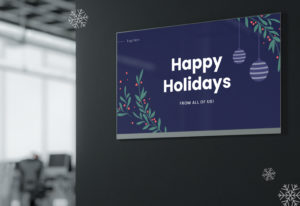 Free Holiday Digital Signage Templates
Spread some holiday cheer this season with three festive digital signage templates. Available as PSD, AI, PPT and Google Slides.
With shoppers rushing to buy last-minute gifts, your holiday digital signage can make their shopping experience more convenient, cheerful, and fun. From displaying different patterns and colors available of best-selling items to wayfinding projected on displays across your store to signage featuring different winter landscapes and holiday images, holiday digital signage can truly transform your store this season.
Talk to us today to learn more about how Screenfluence cloud-based digital signage software can enhance your shopping experience this holiday season and all year round.