When it comes to setting up your digital signage, design and content should be one of your top priorities. Designing eye-catching and awe-inspiring messages for your digital displays helps you make the most of your screens.
While you might think you need a dedicated designer to help create your digital signage content, there are plenty of easy-to-use digital signage design tools out there that you can take advantage of. Whether you have no design experience, or are a content creation pro, here are our top picks for digital signage design tools to help you design captivating content.
Best digital signage design tools for content creation
Skill level needed: Beginner 
PowerPoint needs no introduction. The popular Microsoft Office application is widely used for presentations in offices, schools and other places of business all over the world. It is widely recognized as a top digital signage tool since it provides just about everything you need to become a savvy designer. PowerPoint comes with numerous slide libraries and templates while offering flexible updating, quick distribution and great transitions and animations.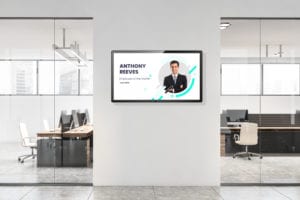 7 Ways PowerPoint Can Transform Your Digital Signage + Free PPT Templates
Find out how PowerPoint can help you up your signage content game + free internal communication digital signage templates.
Skill level needed: Beginner 
Google Slides is PowerPoint's free equivalent. It's an awesome tool that can be used in conjunction with PowerPoint to create and edit polished presentations in your browser without the requirement of any software. Presentation slides get a lot of information across, quickly and clearly. From internal communications to education digital signage, web-based presentation software like Google Slides is  a very versatile, time-saving digital signage design tool you can leverage for your digital signage content creation.
Skill level needed: Beginner to Intermediate
Canva is a free digital signage design tool that has been heralded as one of the most user-friendly design programs available in the world. Even the most inexperienced, non-techie can become a designer using Canva. Its top features include a simple drag-and-drop interface, a large selection of pre-designed layouts and templates and an option to upload your own graphics. It also includes a library of hundreds of free shapes, lines, backgrounds, frames, icons, stock photos and illustrations that can help you design captivating content for your screens.
Skill level needed: Beginner to Intermediate
When you want to display charts, infographics, maps and more data-intensive content, Piktochart is the digital signage design tool to go to. It's easy-to-use interface allows you to create captivating content for your screens, even with limited design experience or skills. It's as simple as uploading your data, customizing your design with drag and drop options and exporting the final product. Like Canva, Piktochart has both free and paid templates you can use as a guide.
Skill level needed: Intermediate to Advanced
For those who prefer Mac over PC, iMovie is a video editing application developed that you can use to create high-quality videos for your digital displays. This digital signage design tool is great for creating interactive and animated content. It includes options to modify and enhance video colour settings, crop and rotate video clips, stabilize shaky videos, add video transitions and change the speed of clips. Video effects include fading, cutaways, split-screen and even green screen which lets you cut subjects out to place them in front of new backgrounds.
Skill level needed: Intermediate to Advanced
Photoshop is practically a household name in all kinds of content creation and design fields, including digital signage design tools. It is widely used by graphic designers to create everything from promotional flyers to digital images. You can ensure your digital signage content is polished with advanced editing capabilities that Photoshop offers such as removing objects in a photo and changing out an image's background color. Photoshop can give your digital signage screens a professional look, but it requires more technical expertise to use.
Skill level needed: Advanced
Another Adobe product, Illustrator comes in very handy for creating graphics that need to be displayed in different sizes without losing their quality. This is a very important facet of this digital signage design tool, especially in cases where digital signage content needs to be displayed on multiple screens of various dimensions. The last thing you want is to waste your digital signage by displaying poor quality visuals. Even though illustrator is a more advanced digital signage design tool, you can leverage ready-made templates to make content creation a breeze.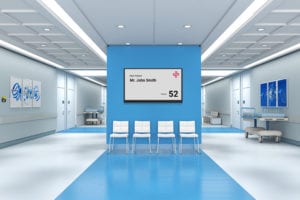 Download Our Free Digital Signage Templates
Update your digital display in minutes with our range of PowerPoint, Illustrator and Photoshop digital signage templates.
Skill level needed: Advanced
Adobe InDesign is an industry-leading layout and page design software commonly used for digital media and print as well. In addition to your digital signage screens, InDesign can help you design stationery, flyers, posters, brochures, annual reports and other kinds of promotional marketing materials. This digital signage design tool's professional layout and typesetting options allow you to create multi-column displays that feature stylish typography as well as rich graphics, images and tables.
Wondering how to get started with digital signage design tools?
No matter what your skill level or budget is, there are plenty of digital signage design tools out there that can help you create captivating content for your screens. Need a hand to get started? Check out our free downloadable digital signage templates that you customize for your business needs.