"I love waiting in long line ups at the bank", said no one ever.
While digital signage is a tech solution that has been known to work wonders for all business types, banks are especially benefiting from digital display solutions.
By mounting large screens and video walls, financial institutions can revamp their customer experience (CX) and receive much higher levels of customer satisfaction.
Here are a few ways bank digital signage content can boost your CX.
Bank digital signage provides customers with helpful information.
Using digital signage as a customer service tool is always a wise choice. In banks, screens can be utilized to answer questions that haven't even been asked yet.
Where is my money going? What services are available to me here? What charges are associated with my account? Posting the answers to these and other questions will help to keep your bank's visitors informed. It will then cut down the amount of time your tellers spend addressing the same queries.
According to Sean Matthews on DigitalSignageToday.com, transparency is a top benefit of bank digital signage. By displaying the projects and initiatives your bank is undertaking, you build trust and credibility. "Show people what you stand for, what your driving ideals are, and how you go about serving and protecting their investment," he encourages.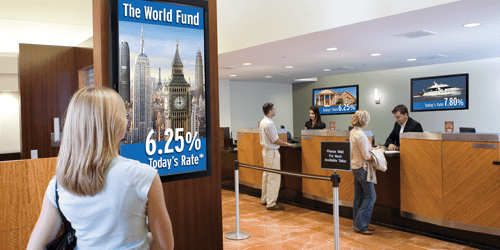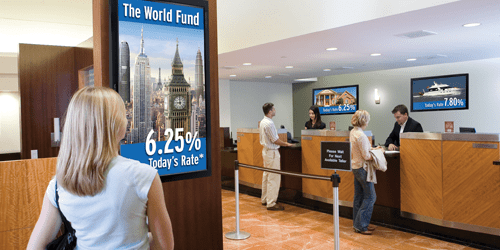 Bank digital signage helps waiting time go by faster.
Of course, we know that time can't actually move along faster than normal – but it can certainly feel that way when you're being entertained. The old adage "time flies when you're having fun" is certainly proven true by bank digital signage.
Long line ups often cause customer irritation. However, with digital signage displaying everything from pertinent banking updates to the scores of last night's hockey games, a bank can make its visitors feel a lot less frustrated with their waits.
On CustomerThink.com, Himanshu Agarwal notes that bank digital signage can also be used as an excellent wayfinding tool. Bank branch layouts may be confusing, leaving customers to wonder where they should go and feeling like they're wasting time. "Installing eye-catching digital signage that people can look at upon entering, which point them in the direction they need to be, help customers move along their day faster," explains Agarwal.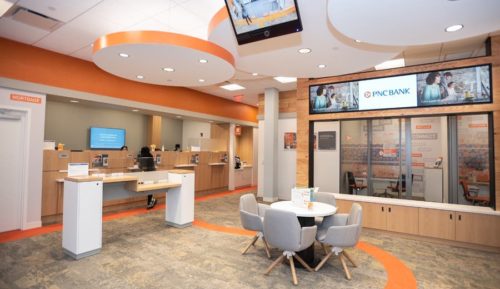 Bank digital signage heightens the prestige of your institution.
Just like every other business out there, your bank has competitors. In order to drive more customers towards your financial institution, you have to be better and offer something different.
A well-designed bank branch is a great start. But one that shows it takes advantage of cutting-edge technology can certainly garner a foothold in the industry. After all, that's what the customers want. By implementing digital signage in your banks, you show your customers your commitment to making their lives easier by keeping up with the latest technology.
"A good, well-designed digital signage deployment, with high-quality images, looks great and pulls people away from the private world of their phone into the shared information space of the financial institution," writes Matthews.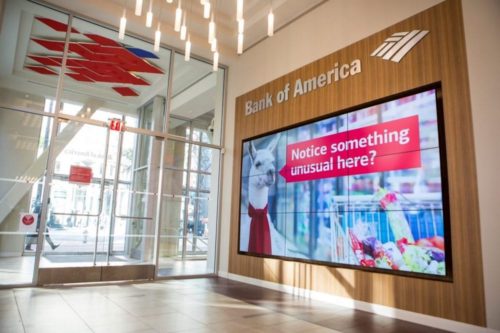 Bank digital signage works to build community.
In an increasingly multicultural world, banks and financial institutions need to offer service and information that's tailored to the different demographics at each of their locations. For example, many financial institutions display information in a variety of languages.
The messages on your bank digital signage should reflect the neighbourhood your bank is in. Customizing your bank digital signage with different messaging and languages shows you're being mindful of your different customers' ethnic and cultural backgrounds. This goes a long way in building trust and strengthening your customer relationships.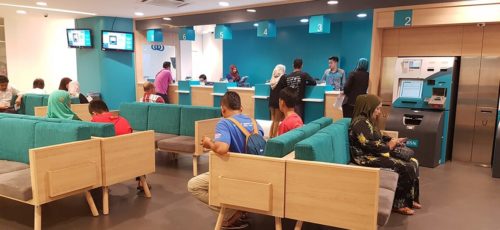 Make the most of bank digital signage with Screenfluence's intuitive, reliable digital display solutions. Discover our cloud-based digital signage software today.