Never underestimate the importance of your company or franchise lobby. It greets your employees every day. Therefore, the design of your lobby can help to set the moods of your team members each workday. Your lobby is also the first thing visitors of your place of business see – and first impressions are everything. What does your lobby say about your business?
With the help of digital signage in your lobby, you stand the chance of creating productive workdays and making consistently excellent, trendy first impressions. So how can you use it effectively?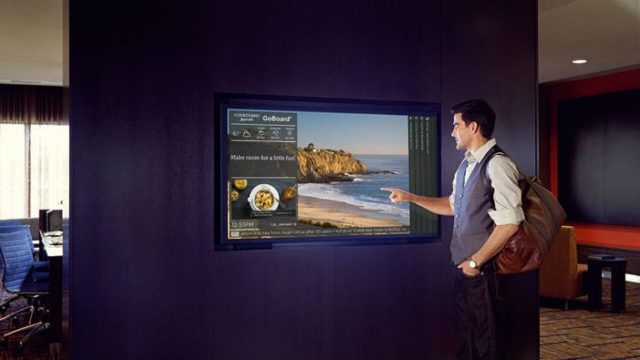 Update your staff with pertinent business news with lobby digital signage
Let's discuss those awesome employees of yours. What would your company be without them? Using your digital signage to keep staff members updated with the latest goings-on with your business is a great way to everyone engaged, motivated and in the know. Digital media in public places is well-known for attracting eyes. When you display important updates on your digital signage, it's bound to reach the eyes of your workers a lot more effectively than emails or social media posts.
Your lobby digital signage can impress potential employees
Remember that whole "first impression" thing? Well, consider it during hiring season. Recruitment experts often champion the need to have a strong company culture in order to attract talented job seekers. When candidates enter through your front doors and into your lobby, what do they see? They should be greeted with vivid images of happy employees, inviting work environments and other examples of what makes your company so great to work for.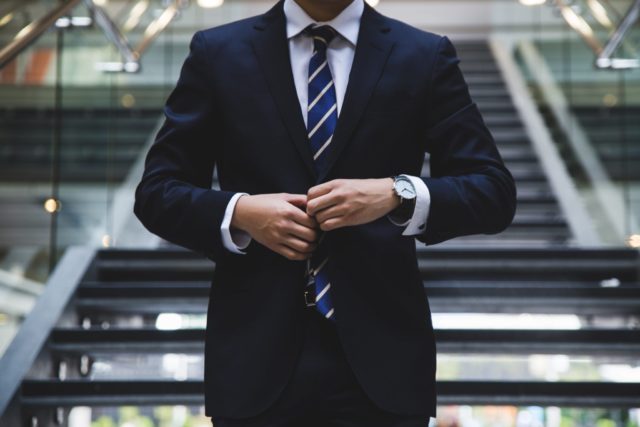 Lobby digital signage offers wayfinding information
How large is your place of business? Are there numerous floors, rooms and hallways? Digital signage in your lobby should definitely be used to help people get around. Wayfinding information is integral for new visitors. Client experiences can be made so much better simply by allowing them easy access to desired locations.
Wayfinding information is equally important for staff members. Depending on the size of your business, it can take a while for new hires to get assimilated. Use your lobby's digital signage to make your place of business less of a maze and more of a home.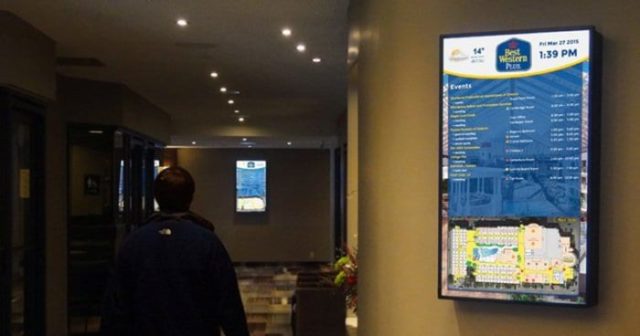 Showcase your cafeteria's menu on lobby digital signage
It's hard to argue that vibrant displays of delicious eats aren't mouthwater-inducing. This is why restaurants, cafes and bars all over Canada make use of digital signage. Not only should the digital signage in your lobby direct visitors to the cafeteria, it should also highlight the tasty selections that are available. When designing your digital menu, be sure to include prices, calorie counts and even dietary information to help visitors of your place of business make easy decisions.
Keep viewers up to date with the world through your lobby digital signage
There are news stories that impact our lives on a daily basis. Choose times of the day to showcase important developments in the world. This will show viewers of your lobby's digital signage that your place of business is one that keeps current and stays informative. Don't be afraid, however, to offer up some good news. Showcasing headlines is often the equivalent of relaying bad news. Be sure to display sports, weather and entertainment news as well.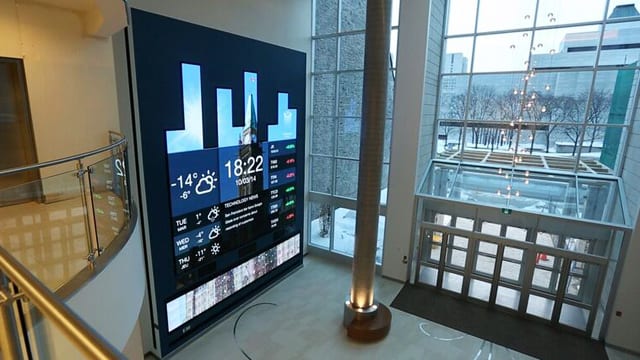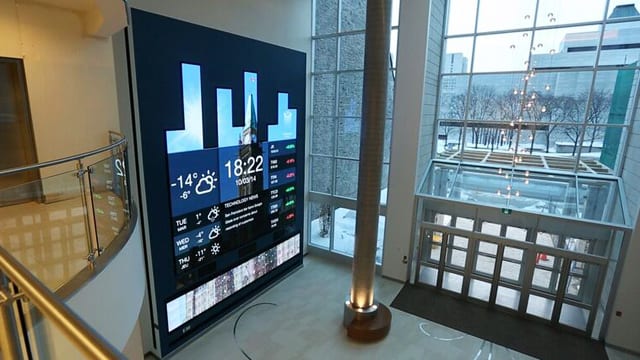 Praise your staff members on lobby digital signage
Is it someone's birthday today? Did a staff member recently become a new parent? Are there particular work-based accomplishments that deserve a little praise? Use your lobby's digital signage to congratulate and celebrate the special moments of the very special people who work for you. Unquestionably, this will lead to an improved company culture.
 Make the most of lobby digital signage with Screenfluence's intuitive, reliable digital display solutions. Discover our cloud-based digital signage software today.