Digital signage enables you to display a wide range of messages all throughout your place of business. It allows for your entire workforce to remain in the loop about the various goings-on with your brand. Just as importantly, it alerts any and all visitors to your place of business about your various promotions, events, deals and discounts. You create the message and your digital signage brings it to your target audience! But how can you maximize its effectiveness?
Here are seven tips to make the most out of your digital signage
Ensure the content is relevant to your target audience
You can engage your audience more successfully if your digital signage content directly addresses their interests and needs. Not only should your content be relevant, it should also be visually appealing. Display eye-catching, high-quality images, videos and headlines. The quality of your content influences the reputation of your brand and conveys your message more effectively and professionally to your audience.
Leverage your cloud-based digital signage content library
One of the top benefits of digital signage is how fast you can share your message. With an online digital signage content library, you can set up your display remotely and share it instantly across your network of displays. Gone are the days when a printed paper memo was necessary to communicate important information to your staff members. With digital displays throughout your office space, your work updates, alerts and meeting schedules can be delivered to your team within seconds.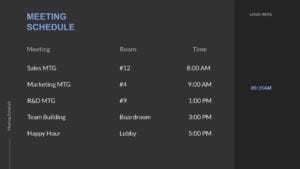 Meeting Schedule Template
Display a clear schedule of daily meetings in your lobby or boardroom with this editable Powerpoint digital signage template.
Update your customers on your progress
Does your business have a waiting room for clients or a waitline for entrance? Auto repair shops, for example, regularly have customers waiting for the completion of their vehicles' maintenance. A doctor's office has patients awaiting alerts of their appointment times. Your digital signage can help you improve the flow of customers in and out of your business, which elevates their customer experience and makes them feel their time is being valued. It also helps you optimize your workflow and adhere to health and safety guidelines for maximum occupancy.
Fill your digital signage content library with videos
You can access all the media you want to push to your displays in the "Library" section on your Screenfluence dashboard. Do yourself a favour and make heavy use of videos. It's no secret that animated, interactive content catches people's attention a lot easier than still images. As a rule of thumb, try to limit your videos to about 15 seconds each to better capture and keep people's attention.
Tutorial: Uploading Content
See how easy it is to upload content you want to display on your screens with Screenfluence's cloud-based digital signage library.
Track your Digital Signage Performance
Your digital signage dashboard provides you with a quick snapshot of everything going on across your digital displays at any given time. Keeping an eye on your dashboard allows you to make sure you're optimizing your displays for the best possible impact. It's also a good idea to make a habit of regularly checking your analytic reports to see what content performs best and find new ways to engage with your audience.
Digital signs are great money makers when used correctly. In many cases, your digital signage can help you to quickly boost revenue. Monetize your signage by displaying coupon codes, highlighting special limited-time offers or even offering up ad space. Using ScreenCloud's loops and scheduling features, you can easily consider what message is relevant to your audience and when to display it at the right time to boost revenue.
Tips on scheduling content for your digital signage
Scheduling content sounds like it involves a lot of work but on the right platform, it's actually pretty simple. Follow these easy tips and scheduling your content will be a breeze.
The overall objective of your marketing efforts is to grow your business, right? To get your customers to take action, you have to, well, ask them to take action. Your digital signage's effectiveness is maximized when viewers are asked to complete a task. Encourage your shoppers to make immediate purchases to take advantage of discounts. Call onlookers to log on to your company website to enter a contest. Remind clients to provide their coupon codes at the checkout. You get the picture. It's important that everyone who views your digital signage gets it as well!
It's time to maximize the effectiveness of your digital signage display
There's always more opportunities to improve your marketing strategies to fulfill your business goals. When it comes to digital signage, testing out new content, optimizing the time that you display certain messages or even the placement of your screens are just some of the ways you can constantly enhance your digital displays. 
Whether you're an expert or a digital signage novice, we created Screenfluence Academy to give you a strong digital signage content management foundation. Our series of short, 2-4 min video tips will turn you into a digital signage content management genius in less than 45 minutes.