There is no end to the list of messages you can send to your staff and customers via digital signage. With its ever-changing array of screens, a digital sign has the ability to convey as much or as little as you like. Of course, it only makes sense to display images and information that are relevant to both your team and your target audience.
With that said, you may hit a snag in the road every so often. There are only so many times you can display the same message without its impact being lost. It's wise to change things up a bit. If you're running out of digital signage content ideas, here are ten templates to inspire you:
10 Digital Signage Template Ideas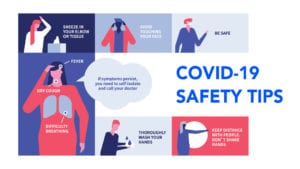 While you may have already displayed various words of wisdom concerning the coronavirus pandemic, some new visuals will help you to maintain your safety standards. In this digital sign you can include basic safety tips as well as symptom reminders. It's great for screens in hospitals, supermarkets and residential building elevators.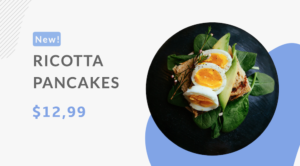 The pandemic has made things hard enough for your restaurant as it is. The last thing you want is for visitors of your establishment to get bored of your menu. Spice things up by featuring a "hot item" with this editable PowerPoint template. Upload vivid images of your "hottest" dishes, include their prices and visually wow all of your customers with your restaurant digital signage.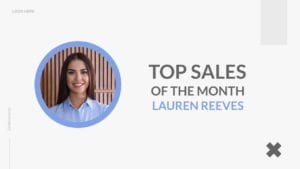 There will never be a bad time to recognize the contributions of your employees. However, during our current pandemic-burdened era, it's especially important to put efforts into putting smiles on their faces. Acknowledging the jobs well done by your workers is a great way to keep employee morale high. Use this editable PowerPoint template to feature new employees, celebrate the accomplishments of a team member or introduce a speaker.
Online Event Announcement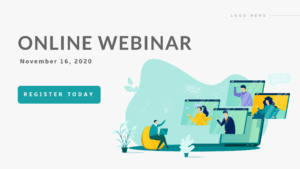 These days, hosting online events is a big part of how businesses market themselves and create communities virtually. With the need for online events to replace the in-person variety due to COVID-19, you can gain traction for your upcoming virtual event with this editable PowerPoint digital signage template for event announcements.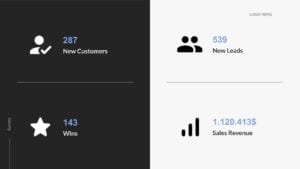 One of the most important objectives of digital signage is to keep your team productive. Flashing messages that promote a positive work environment can help with that. As well, it's wise to keep your staff reminded of the targets you've set. Use this editable PowerPoint template to help showcase your company goals and highlight wins.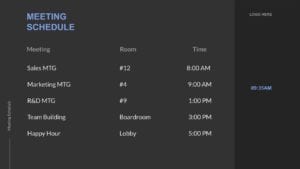 When is your next staff meeting? Digital signage removes the need for you to send out emails to remind everyone about its date and time. Instead, use this editable PowerPoint template to display a clear schedule of daily meetings in your lobby or boardroom.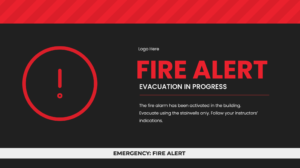 The health and safety of your staff is of paramount importance. Your digital signage is the quickest way to deliver pertinent information about what to do in the event of an emergency. In case of a fire, use this evacuation alert to urge people to leave the building.
Proper Handwashing Reminder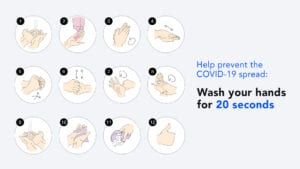 No matter your business type, maintaining a clean and sanitized work environment is a must. Sometimes, friendly reminders are necessary to keep everyone on the same page. This handwashing technique reminder is a perfect sign to display in your warehouses and take-out restaurants. It is also a great addition to clinic screens and residential building lobbies.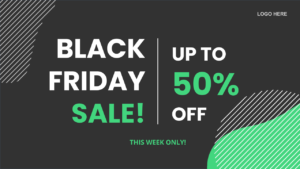 Digital signage can help you draw traffic to your retail store by highlighting promos and deals that entice passerbys to come in. Use this customizable digital signage template to promote special offers, promotions and sales for all popular holidays and seasonal sales.
Free Digital Signage Templates to Download
All of the digital signage templates we featured in this article are available for FREE from Screenfluence! Go on to our free resources section and grab your free templates to make your displays pop.
Extra Digital Signage Design Resources