With each passing year, the popularity of digital signage grows stronger. Retailers, medical facilities, schools and various businesses of all kinds are all reaping the benefits of communicating their messages through digital displays. 
The power of digital signage is also very much alive within office settings and private workspaces. Digital signage, you see, isn't just a hot advertising method – it's an incredible internal communication tool available to businesses, big and small.
Internal communications digital signage is a powerful tool for defining your company culture. It can be leveraged for boosting productivity, improving employee morale, ensuring your workplace is safe, and more.
Here's how you can create a positive workplace culture with digital signage
Recognize your employees' accomplishments and celebrate company achievements
Recognition and giving credit where credit is due are key to keeping your employees happy, and in turn more inspired and engaged to do better work. In fact, 98% of happy employees are more likely to identify with a company's goals and values than their less happy counterparts. That's why highlighting accomplishments and successes boosts morale and inspires your employees to contribute to the company's growth.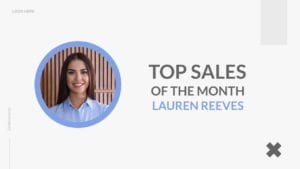 Workplace Digital Signage PowerPoint Templates
Introduce new team members, celebrate staff accomplishments and feature top performers with this editable PowerPoint digital signage template.
Use your internal communication digital signage to encourage team building and foster loyalty
A connected, collaborative team makes for a productive staff. So, if your place of business is one that relies on teamwork to get work done well, on-time and on-budget, you need to support team building efforts by placing digital displays throughout your office space. We're talking about the break room, the cafeteria, the water cooler, the hallways and even the elevators. 
Wherever your staff members gather is a good place to send them messages that will help them spark conversations. This small talk can help build lasting relationships and foster loyalty between your team. You can also use your digital signage displays to announce team building events and fun work events to your staff.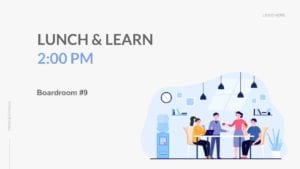 Company Event PowerPoint Digital Signage Template
Announce HR events or display details about important upcoming meetings with this screen-ready template.
Give your employees a voice and chance to contribute
One way to ensure you have a positive workplace culture is to let employees have their voices heard. Your digital displays don't have to exclusively showcase your messages to your staff. What are their messages to each other? Encourage your staff to regularly provide you with feedback that can be delivered to the rest of your team. The more inclusive your internal communication digital display messages are, the more effective they will be.
Keep in mind that not all of the messages need to be work-related. Do your team members have funny anecdotes, stories, jokes or photos to share? Maybe you can implement a company-wide hashtag and ask your staff to contribute through a social media feed integrated into your digital signage. Using your digital signage to help your employees to get to know each other better is an excellent way to improve your company culture.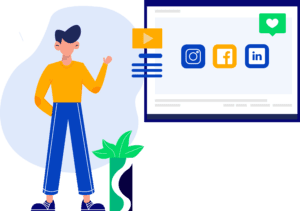 WEBINAR: Leveraging Social Media For Digital Signage
Want to learn more about why you should display social media on your digital signage? Watch our webinar where we share tips and tricks on how to leverage your online presence for your digital display. network.
Keep your team members safe and healthy
Arguably, there is no quicker way to deliver important messages to your staff than through internal communications digital signage. The beauty of your digital displays is that they can be revised and updated at a moment's notice. This is especially important when information regarding your team's health and safety need to be communicated. 
In today's pandemic-burdened world, the delivery of new safety regulations and procedures through digital signage is especially necessary to minimize any hazards. Internal communications digital signage allows you to update all your screens in a few clicks and disseminate your alert or notice to your entire building or office.
Free Emergency Digital Signage Templates
We've prepared 3 ready-to-use emergency digital signage templates to help you communicate with your team and keep everyone safe in case of evacuation alerts, fire alarm notices or dangerous weather conditions warnings.
Looking for more ways to use digital signage in employee communications?
Internal communications digital signage is an incredibly diverse tool in your operations toolbox. Explore our resources, templates and tips for internal communication below and talk to Screenfluence's digital signage experts to discover how digital signage can help you transform your employee communications.
Extra Internal Communications Digital Signage Resources