Keep your staff and customers safe with these free coronavirus digital signage templates
During these uncertain times, it's getting increasingly more important to have your employees and administrators using remote communication tools. Our digital signage content management software gets your message out to multiple screens in your network at an instant. It's quicker and more efficient than printing posters and distributing notice boards. It's a great way to reach your non-desk workers and customers in clinics, grocery stores, elevators and warehouses.
Download these free coronavirus safety and prevention signs
We put together some handy digital signage templates for anyone who needs to share important COVID-19 safety and prevention tips. Download the landscape version for your screens below.
COVID-19 Safety Tips
This digital sign includes basic safety tips as well as symptom reminders. It's great for use on the screens in hospitals, supermarkets and residential building elevators.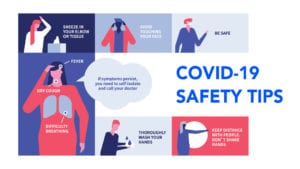 Download the landscape PDF here
Proper Handwashing Reminder
This handwashing technique reminder is a perfect sign to display in your warehouses and take-out restaurants. It would also be a great addition to clinic screens as well as residential building lobbies.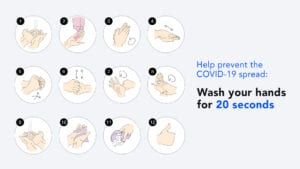 Download the landscape PDF here
Social Distancing Sign
It's vital for customers in grocery stores and supermarkets to maintain a distance of 2 meters (6 ft.). This digital sign is a great reminder for your shoppers.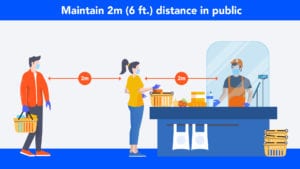 Download the landscape PDF here
COVID-19 Prevention Tips
From hand sanitizers to using a mask, this coronavirus prevention digital sign reminds people about the importance of an individual's role in helping contain the virus. Display it in your workplace, grocery stores and hospitals on the screens throughout your network.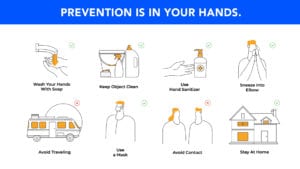 Download the landscape PDF here
Sharing information about COVID-19 is an integral part of your crisis communication plan. Sharing this crucial health messaging on your screens is easy. Simply download the PDFs and add them to the Loops in your Campaigns using our dashboard. We hope that you'll find these digital signage templates useful! Let us know if you'd like to receive more of these.
For more information about how you can use digital signage to flatten the COVID-19 curve, please don't hesitate to contact Screenfluence by calling 1-844-772-7336 or emailing info@screenfluence.com.