So you've decided to implement digital signage in your business. Congratulations! But where do you start? Your digital signage is an investment and you wanna make the highest ROI. To truly deliver results, you need to develop a strong digital signage marketing strategy.
Your digital signage marketing strategy spans content, display locations, hardware and even customer feedback. A well-defined strategy is what will make the difference between simply having a digital display and securing an effective marketing tool that helps you to generate greater revenue.
If you are planning out a new digital signage strategy or optimizing your existing displays for full business impact, this guide can help you define your priorities and align your digital signage marketing strategy to your overall business goals.
Digital Signage Marketing Strategy: How-to Guide
Be specific about what you wish to accomplish
In order for your digital marketing strategy to be effective, you have to be clear about what you're trying to achieve. Before you design any visuals for display, be sure to settle on a precise objective. Do you want to sell more of your newest product? Are you attempting to grow your email subscriber list? Do you wish to increase traffic to your website? Are you trying to gain more social media followers? Once you've set your goals, you can begin to consider the design of the messages you wish to send.
Set your Key Performance Indicator (KPIs)
You can't truly assess your digital signage marketing strategy's success unless you measure it. Your Key Performance Indicator (KPI) should be set in advance of your digital signage display launch. You wish to increase sales by how many? You're looking for how many new referrals? You want how many new social media followers? You'd like to see website traffic increase by how many daily hits? It's vital that you find a way to measure your marketing tactics before implementing them.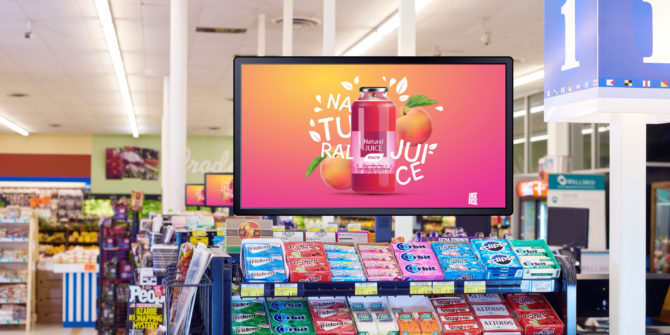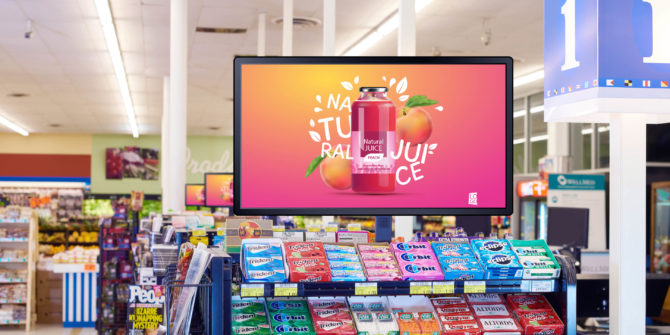 Position your screens where people can see them
Digital signage screens need to be placed in areas that are specifically meant to garner the most attention. Consider how long you wish visitors to view your messages and what type of activity they'd be doing at that time. Should your screens be placed at the front of your store? Are they best suited at checkout? Do you want them placed in your company's break room? The location of your digital signage can make all the difference in the world when it comes to their effectiveness.
Deciding on display positioning before deploying your digital signage strategy helps you figure out how many signs and how much content you need to maximize your digital signage efficiency.
Branching off of that last point, it's integral that you display the right messages at the right times. Showcasing your dinner menu at 10 in the morning isn't the wisest course of action. Recall the times of day when your audience is most likely to visit your place of business. Consider the general differences between their moods in the morning and in the afternoon. When you focus on delivering information that is most useful, relevant or interesting at a specific time, your digital marketing efforts become that much more lucrative. 
Deciding on display positioning before deploying your digital signage strategy helps you figure out how many signs and how much content you need to maximize your digital signage efficiency.
Diversify your digital signage content
Your digital signage content shouldn't necessarily encompass product information exclusively. It's wise to mix things up while never detracting from content that your audience enjoys. It's also important to remember to provide helpful information. For example, large office buildings should offer way-finding solutions such as the locations of elevators and restrooms. The combined objective of digital signage displays is to assist, educate and intrigue.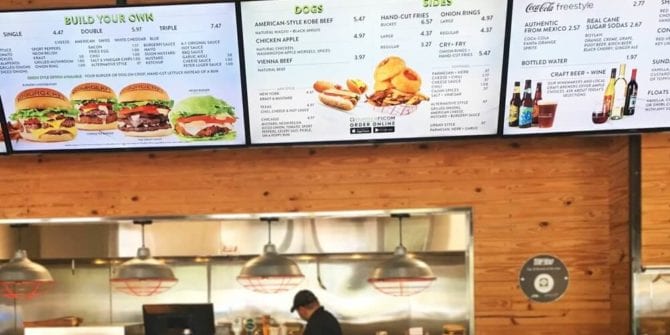 You know the people who are most likely to support your brand. Or do you? Do a little research, if necessary, and truly dig into what makes your target audience tick. When are they most likely to shop? Which products do they purchase the most often? How important is customer service when it comes to their buying decisions? 
When you know your audience, it's a lot easier to captivate them. Restaurants, grocery stores and other food retailers can have a lot of fun with this. By utilizing digital signage, you can literally make mouths water! Vivid displays of sumptuous dishes – especially at the right time of day – can make a breakfast, lunch or dinner purchase so much easier.
Review and adjust your strategy
One of digital signage's best features is that it's dynamic and easy to update, unlike static signage that can go stale or outdated very quickly. If you follow a "set it and forget it" approach you might not be making the most of your displays. Some of the ways you can improve and optimize your digital signage marketing strategy include taking customer feedback into account, finding better ways to manage your digital signage operations, testing different content and designs, tweaking your display loops and schedule, or launching new campaigns.
Ready to deploy your digital signage marketing strategy?
Finding a reliable, cloud-based digital signage software makes it easy to implement your strategy and see your displays come to life. At Screenfluence, we offer intuitive digital signage solutions that you can tailor to your specific digital signage marketing strategy. Talk to us today to get started.